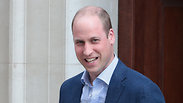 Prince William considering Western Wall visit
Kotel Rabbi Shmuel Rabinovitch confirms British Embassy is examining option of including the holy site on the Duke of Cambridge's itinerary, but says 'I'm not chasing after it. It's more important to me that a Jewish boy from Britain comes and connects with this place.'
The British Embassy in Israel is considering including a visit to the Western Wall in the itinerary for Prince William's upcoming visit to the country at the end of June.

William, Queen Elizabeth's grandson and second-in-line to the British throne, is the first senior British royal to pay an official visit to Israel and the Palestinian territories.

According to Kensington Palace, the Duke of Cambridge's visit "in the Occupied Palestinian Territories will begin with a short briefing on the history and geography of Jerusalem's Old City from a viewing point at the Mount of Olives.

"From here His Royal Highness will travel a short distance to the Church of St Mary Magdalene, where he will pay his respects at the tomb of his great-grandmother, Princess Alice."

The statement from Kensington Palace did not mention the Western Wall, but the Kotel's Rabbi Shmuel Rabinovitch confirmed to reporters that the British Embassy is examining adding the holy site to the visit's schedule.

Representatives of the embassy even visited the Western Wall to examine the possibility.

"I'm not chasing after it," Rabinovitch said. "As a religious Jew, I think we don't need recognition that the Western Wall is ours. It's more important to me that a Jewish boy from Britain comes and connects with this place and in doing so becomes a part of the chain of Jewish generations. I respect the prince, but my job is to pass on the Western Wall's heritage to the future generations."

The British Embassy said in response, "We do not comment on the itinerary beyond what has already been announced."

The prince will begin his June 24-28 trip in Amman, Jordan, then travel to Jerash in Jordan, Tel Aviv and Jerusalem in Israel, and Ramallah in the West Bank.

William will meet Prime Minister Benjamin Netanyahu at the prime minister's residence in Jerusalem before seeing Palestinian President Mahmoud Abbas at his office in Ramallah the following day.

He will be making the trip alone as his wife Kate will remain in Britain to look after their third child Prince Louis who was born in April. However, he will be accompanied by his senior adviser, David Manning, a former British ambassador to Israel.

During the four-day tour, the prince will also go with Britain's Chief Rabbi Ephraim Mirvis to Yad Vashem, Israel's official memorial to Jewish victims of the Holocaust.

Reuters contributed to this story.