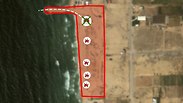 IAF strikes on tunnel
Photo: IDF Spokesman's Office
How IDF foils Hamas's naval designs
As terror groups in Gaza push to build up maritime strength, training hundreds of divers for Hamas's elite Nukhba naval commandos, Israel's 916th Division carries out numerous attacks on plethora of targets, including vessels and naval outposts to weaken terror group's 'strength and will.'
The IDF's 916th Division—which is responsible for the maritime sphere around the Gaza Strip and for the elite naval commando Shayetet 13 unit—has been focusing in recent months on thwarting Hamas's continuous attempts to launch attacks on Israel via the sea, as the terror group pushes to build up its capabilities.

The unit carried out last year many joint operation against terror targets in Gaza, with a focus on Hamas and Palestinian Islamic Jihad's endeavors to develop their naval capabilities.

"Around 50 per cent of the targets attacked from the air by the Israel Air Force during the last round of escalation two weeks ago were naval targets belonging to Hamas, including naval outposts and sea vessels," a senior naval officer said.

IDF bombs naval tunnel (צילום: דובר צה"ל)

"The attacks are designed to weaken Hamas's military strength, as well as its will, as we approach the next conflict, and to distance the next round."

The unit, which operates from a military base in Ashdod, was recently awarded the joint certificate of appreciation by Israel Navy Commander Maj. Gen. Eli Sharvit.

At the beginning of the week, it was cleared for publication that IAF fighter jets bombed a terror tunnel in northern Gaza a week-and-a-half ago, which was meant to be used by Hamas's elite Nukhba naval commandos to secretly go underwater.

The tunnel dug by Hamas for its naval forces was only part of the commando operations it had undertaken since Operation Protective Edge in 2014.

Other attempts to beef up its naval presence, despite the IDF's continued bombardments on its progress, have included commando training exercises lasting a fortnight, arming with secret diving equipment and creating quality and elite forces for the Nukhba in a bid to launch amphibious assaults on Israeli coastal targets.

In addition, Hamas naval forces are in a continuous process of training hundreds of divers to attain a lower level than that required for the Nukhba but who will still be able to participate in terror missions during the next military confrontation.

Notwithstanding the clandestine operations carried out by Israel's navy against the unfettered strengthening of Hamas's amphibious capabilities, since Protective Edge, the Navy has deployed a system of sensors along the maritime border detecting and alerting the troops to any suspicious movements in the water.

This system has been upgraded in recent years, passed many tests successfully, and Navy forces from the Ashdod base have already on several occasions dropped explosives in the water targeting the divers, whenever suspicious underwater movement was detected.

In addition, over the past month, the Defense Ministry started work on an underwater obstacle against Hamas's commando forces, which will make use of the sensors system and include a breakwater in the Netiv HaAsara area.