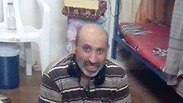 Security prisoner Khalil Abu 'Aram
A warden was lightly hurt Friday as a riot broke out at the Nafha Prison in southern Israel over a photo showing a Palestinian security prisoner eating on the floor of his cell with another inmate, which was posted on Twitter.

Nine prisoners were placed in solitary confinement following the incident, and the Israel Prison Service (IPS) is trying to locate the cellphone which was used to take the photo.

When the IPS realized the photo was real, the wardens decided to search the cell of the prisoner featured in the picture, Khalil Abu 'Aram, who is serving a life sentence, in order to determine whether it had been posted online from within the prison or whether it had been sent to someone else who posted it.

At around 12 pm, as the wardens entered the cell to search for the phone and place 'Aram in solitary confinement, they encountered resistance and were attacked by inmates who shoved them and hit them with broomsticks.

The prisoners involved in the attack were forcibly removed from the cell and placed in solitary confinement.

The other inmates in the cell block kept protesting and knocking on the doors. Reinforcement units were dispatched to the prison and eventually managed to restore order.