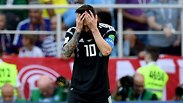 Messi after missing the penalty kick
Photo: EPA
Defense Minister Avigdor Lieberman took pleasure in the 1-1 draw between Argentina and Iceland in the World Cup on Saturday, after the Argentine team cancelled its friendly against Israel, which was supposed to take place last week.

Argentine soccer star Lionel Messi failed to give his team the lead when his 64th-minute penalty was stopped by Iceland's goalkeeper Hannes Halldorsson.

"In the Argentina vs. Iceland game, you could see how much Messi needed the practice game against Israel," Lieberman wrote on Twitter. "Well done to the Iceland team, a small country with 350,000 residents and a great team."

Meanwhile, Joint List MK Ahmad Tibi also took a dig, posting a poll on his own Twitter page asking: "Who is happier after Messi missed the penalty kick?"

The options presented in the poll were Portuguese star Cristiano Ronaldo or Culture and Sports Minister Miri Regev - who was accused of politicizing the friendly match with Argentina and leading to its cancellation.