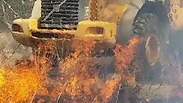 Some ministers at odds with IDF on how best to tackle kites terrorism
Two and a half months of burning fields in Gaza border communities lead Ministers Bennett and Erdan to demand incendiary kite and balloon launchers are directly targeted, but the IDF is concerned Palestinian fatalities could lead to escalation.
While the IDF has been taking steps to deter Palestinians launching incendiary kites and balloons from Gaza to Israel, Cabinet Ministers Gilad Erdan and Naftali Bennett have been calling to target those launchers directly.

The IDF has been firing warning shots from the air and destroying property belonging to the kite launchers but has refrained from targeting them.

This is because the incendiary kites and balloons have not been defined an immediate threat or danger that must be eliminated with an accurate strike—like a terrorist trying to cross the border armed or a cell launching rockets or mortar shells.

The IDF therefore focuses on deterrence. Since most of the incendiary kites and balloon come from deeper inside the strip, they are not in the direct line of sight for IDF machineguns and snipers.

Instead, drones spread all across the Gaza skies aid in locating and identifying cells launching incendiary kites and balloons in real time. Upon positive identification, a small rocket is launched from a nearby aircraft aimed at hitting near the cell members.

The Security Cabinet convened on Sunday to discuss the kites terrorism, with ministers split on the best course of action.

On one side were Prime Minister Benjamin Netanyahu and Defense Minister Avigdor Lieberman, who supported the defense establishment's position that argues it would not be wise to target incendiary kites and balloon launchers directly, because dozens of children and teenagers were also in the line of fire.

The defense establishment also believes targeting kite launchers directly could lead to an escalation of violence in Gaza, something Israel is not interested in amid the threats from Iran and Hezbollah on the northern front.

The IDF wants to avoid a situation in which fatalities on the Palestinian side would lead to revenge rocket barrages that could escalate into a war, particularly in light of the relative quiet on the Gaza border over the past two weeks as "March of Return" protests have petered out, and behind-the-scenes efforts mediated by Egypt and Qatar to reach an understanding with Hamas that would lead to long-term calm.

Furthermore, while the incendiary balloons and kites cause financial damage and create fear and distress among Israelis living in the Gaza border communities, it has not caused the loss of lives.

Fire caused by incendiary balloons in Eshkol (צילום: קק"ל)

On the other side is Education Minister Naftali Bennett, who argues that one who launches an incendiary balloon or kite should face the same fate as one who launches a rocket. Bennett believes the IDF should shoot to kill, and that Israel must not accept the new equation created by Hamas, according to which the Palestinians can send incendiary kites and balloons at Israel, while the IDF can't hurt them.

According to Bennett, by not directly targeting kite and balloon launchers, an escalation would be inevitable as Israel would not be able to continue showing restraint. He believes directly targeting the kite and balloon launchers would deter the Palestinians and put an end to the new trend.

Despite the disagreements, the ministers were left with the impression the IDF's fire policies are slowly changing, with warning shots at kite and balloon launchers, but also airstrikes targeting Hamas.