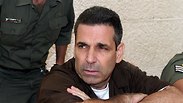 Gonen Segev
Photo: Atta Awisat
Former Israeli minister charged with spying for Iran
Gonen Segev, who lived in Nigeria in recent years, was recruited as an agent of Iranian intelligence, providing Tehran with information on Israel's energy industry, security sites in the country, different facilities and political and military officials.
Former minister Gonen Segev was indicted last week for spying on the State of Israel for Iran, the Israel Police and the Shin Bet said Monday.

Segev was charged with espionage, aiding an enemy in war time, as well as providing information to the enemy.

Segev, the former energy and infrastructure minister, is suspected of providing Tehran with information on Israel's energy industry, security sites in the country, different facilities and political and military officials, among other things.

The former minister, who has been living in Nigeria in recent years where he worked as a doctor, tried to enter Equatorial Guinea in May 2018, where he was refused entry because of his criminal past and consequently transferred to Israel.

He was arrested and interrogated by the Shin Bet and the Israel Police after intelligence gathered on him raised the suspicion he was in contact with Iranian intelligence and aiding them in their activities against Israel.

The investigation found that Segev was recruited and was operated as an agent of the Iranian intelligence. He was first contacted by Iranian embassy officials in Nigeria in 2012, and at a later stage traveled to Iran twice for meetings with his handlers—while being fully aware they belonged to Iranian intelligence.

Segev did not deny the allegations leveled against him during his investigation, but claimed that he attempted to help Israel by "obtaining information."

Over the years as an Iranian agent, Segev met with his handlers in apartments and hotels around the world, which he told interrogators he believed are used for covert Iranian activity.

He also received an encrypted communications system to conceal the exchange of messages between him and his handlers.

To obtain the information he was asked for by his Iranian handlers, Segev maintained contacts with Israelis who have ties to Israeli security, defense and foreign relations. He worked to put the Israeli officials in contact with Iranian intelligence elements, while trying to deceive them and present the Iranians as innocuous businessmen.

Segev was indicted on Thursday at the Jerusalem District Court. The court accepted a request by the Shin Bet and Israel Police to release some details about the case, while the rest are under gag order. He remains under arrest until further notice, with his next court hearing scheduled for July 9.

Segev's attorneys, Eli Zohav and Moshe Mazor, said that the details released "make matters appear very grave, even though the indictment—the majority of which is still under gag order—portrays a different picture."
Who is Gonen Segev?
Segev was first elected to the 13th Knesset in 1992 as part of Rafael Eitan's Tzomet party, where he served as an opposition MK and a member of the Knesset's Finance Committee.
In February 1994, Segev and two other MKs split from Tzomet and formed the Yiud faction. In January 1995, Segev became the minister of energy and infrastructure in Yitzhak Rabin's government and continued holding the post in Shimon Peres' government after Rabin's assassination.
After his political career, Segev became a businessman.
In 2002, Israel's security services uncovered a Hezbollah plot to kidnap Israeli citizens—with Segev among them—to Lebanon to be used as bargaining chips for negotiations on prisoner swaps.
Qais Hassan Kamal Obeid, an Israeli citizen from Taybeh who moved to Lebanon, tried to lure the Israelis to travel abroad by promising them easy money for criminal endeavors.
At the time, Segev said he received a warning from the Shin Bet about the plot, claiming he didn't know why he was being targeted.
In November 2003, he withdrew NIS 20,387 worth of cash from ATM machines in Hong Kong using an Isracard credit card. He called Isracard and reported his card stolen, claiming he did not make the withdrawals. Security cameras on the ATMs showed he was lying.
He was convicted of attempting to fraudulently obtain benefits and of credit card fraud. He was given probation and was the choice between paying a NIS 50,000 fine or serving three months in prison. He appealed the decision to the district court, which rejected the appeal of the conviction but decided to cancel the fine.
He was arrested in April 2004 for attempting to smuggle 32,000 ecstasy tablets from Amsterdam to Israel, claiming he thought they were M&M's.
He was also charged with illegally extending his diplomatic passport with a pencil to avoid being subjected to a search by Dutch airport authorities.
In March 2005, he was convicted of forgery and attempted drug smuggling in a plea deal and sentenced to five years in prison, two years of probation and a $27,500 fine. He was released in June 2007 after having a third reduced for good behavior.
As a result of his conviction, Segev had his medical license revoked in February 2007.
Yaron Drukman contributed to this report.