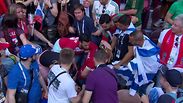 Moroccan and Israeli fans
Photo: Kan
World Cup 'fight' over Israeli flag—fake news
A viral video which apparently shows Moroccan fans trying to tear down an Israeli flag during a match between Morocco and Portugal, actually depicted two Moroccan supporters fighting with each other over a shirt thrown by the Captain of the Moroccan team into the crowd.
A viral video made the rounds on Wednesday showing Israeli soccer fans at the Morocco-Portugal World Cup match seemingly trying to fend off two Moroccan supporters from tearing up the Israeli flag draped over their shoulders.

However, the Israeli fans from the viral clip say the Moroccans were actually fighting with each other over a shirt which the captain of the Moroccan National Team, Medhi Benatia, had thrown into the crowd earlier, and were not in fact trying to rip the Israeli flag.

"What people saw in the viral video is fake news. The Moroccans accepted us with love and the flag was proudly covering us the entire match," said one of the fans, Alex Brener, a firefighting officer from Tiberias.

"We've been walking through the streets of Moscow with the flag and everyone asks to take pictures with us, there haven't been any incidents. What we see in the video is a fight over the captain's shirt. It looks as though they're trying to get hold of the flag, but it's really not true," exclaimed Brener.

Alleged fight between Israelis and Moroccans (צילום: כאן11)

Brener is attending the World Cup with five of his friends from the Fire Department—Aviran Ben Moyal, Dudu Peretz, Haim Dadon, Amnon Jerbi and Eyal Applewood. The fans who had the Israeli flags draped over their shoulders were also photographed hugging Moroccan fans.

Elsewhere in the stadium, a Moroccan fan confronted an Israeli with a national flag, however the stewards managed to calm the situation.

Saudi newspaper Al Watan also reported on the story, saying a Portuguese woman has lifted the flag and two Moroccan supporters tried to take it away from the Israelis before security forces arrived.

Many Arabic-speaking Twitter users talked about the footage from the stadium in Moscow, believing the Moroccans attempted to damage the Israeli flag.

"As far as I know, there are Jews in Morocco, if it's established the men with the flag are Moroccans, then it's obvious where their loyalties lie, and they will have to be exiled immediately. They can go to Israel, it will be good to them," raged one woman on Twitter.

Several others said the two are definitely Moroccan nationals expressing their support for Israel and Saudi Arabia.