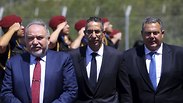 (L-R) Israel Defense Minister Avigdor Lieberman, Greek defense minister Panos Kammenos and Cypriot D
Photo: AP
Cyprus, Israel and Greece must forge deeper military ties to bolster security and more effectively counter common threats in a turbulent region, the three countries' defense ministers said Friday.

Cypriot Minister Savvas Angelides and his Israeli and Greek counterparts Avigdor Lieberman and Panos Kammenos said they also seek to expand cooperation on cybersecurity, joint military drills and search and rescue operations in the eastern Mediterranean.

Lieberman said the threat of terror attacks and the challenges posed by illegal migration in a region he called "an ocean of violence" where "rogue states" operate must be met collectively.

"It's much better to counter regional threats together, all three countries together," the defense minister told a news conference.

Cyprus hosted the second trilateral meeting between the three defense ministers. Lieberman said Israel will host the next one.

The ministers also hailed the first conference bringing together Cypriot, Greek and Israeli companies active in the military industry, which they say will help strengthen ties.

Kammenos said the meeting underscores a joint commitment to unite forces in order to deter security challenges.

"We agreed that the dangers and threats coming from neighboring crisis areas constitute a wider challenge for the defense of our countries and the security of our peoples for years to come," said Kammenos.

The Greek minister also said that a eurozone decision paving the way for Greece to end its eight-year bailout program will positively impact the country's armed forces.

In a clear reference to Turkey, Angelides said closer defense cooperation poses no threat to any other country and helps secure the ongoing search for gas in the eastern Mediterranean.

Cyprus and Israel have discovered gas deposits off their coasts and continue searching for more. Turkey has objected to the gas search off Cyprus, fearing that the benefits of those findings will not be shared with Turkish Cypriots in the northern part of the island.