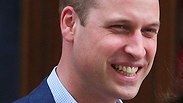 Prince William
Photo: Reuters
Prince William is set to travel to Israel and the West Bank next week, marking the first official royal visit to the State of Israel since its establishment in 1948.

During his stay, he might follow in his ancestors' footsteps and decide to get tattooed by a member of the Razzouk family, which has been inking Christian pilgrims for the past 700 years.

The Razzouks claim to have tattooed three previous British royals in the 19th century and hope they will be able to leave their mark on the Duke of Cambridge's upcoming historic tour.

Prince Albert Edward (who later became King Edward VII), Queen Victoria's eldest son, visited Jerusalem in 1862 as part of a five-month tour of Egypt and the Ottoman Empire, where he got a tattoo of the five crosses and the three crowns of Jerusalem on his arm.

His sons, Prince Albert Victor and his brother George (later King George V), followed in his footsteps 20 years later and also got the same tattoo on their arms.

Article written by Maya Margit

Reprinted with permission from The Media Line .