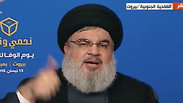 Hezbollah's Secretary General Hassan Nasrallah
Hezbollah says social media accounts closed without notice
The terror organization says Twitter and Facebook closed its social media accounts, a day after it posted a video showing 2006 kidnapping of IDF soldiers Ehud Goldwasser and Eldad Regev; Hezbollah says social media followers can use backup pages; Facebook and Twitter have not commented on the issue.
Hezbollah said Saturday via Telegram that its Facebook and Twitter accounts have been shutdown without notice, informing its social media followers that backup and new social media pages were available for use.

According to Hezbollah, Facebook and Twitter closed its accounts as part of their efforts to harm the Lebanese organization since social media plays a major role in Hezbollah's activities.

This is not the first time Facebook and Twitter have pulled the plug on Hezbollah's accounts. The same Fcebook page was blocked at the end of 2017 and was later reopened.

Facebook and Twitter have so far not issued a statement on the matter.

The accounts were reported to have been shut down a day after Hezbollah posted a new video on its Twitter account showing the 2006 kidnapping of IDF soldiers Ehud Goldwasser and Eldad Regev.

However, the Hezbollah-affiliated Twitter page on which the video was published is still active, indicating the shut down was not a result of the video published on Friday.

In the video, the soldiers' bodies can be seen near an IDF Humvee when several Hezbollah terrorists dressed in what resemble the Israeli military's uniform run away from it before it explodes.

Hezbollah video of kidnapping

As the video continues, the terrorists are seen fleeing the scene both on foot and by car.

Two years ago, the Lebanese news channel Al Mayadeen, which is also affiliated with the Hezbollah group, published the dramatic footage of the kidnapping of the two soldiers in a three-part series containing testimonials on the kidnapping from the Israel-Lebanon border, which led to the Second Lebanon War in 2006.

In the first episode, fighters for the organization are seen training for the kidnapping in the summer and in the winter.

Imad Mughniyah, Hezbollah's international operations chief who was assassinated in 2008 in a joint Mossad-CIA operation in Damascus, is present in the last training drill before the kidnapping in an area that was similar to the actual scene. He is filmed giving instructions to terror cell.