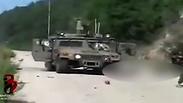 Hezbollah clip shows 2006 kidnappng of IDF soldiers
New video published on Twitter account affiliated with Lebanon-based terror group shows Ehud Goldwasser and Eldad Regev—whose kidnappings led to the Second Lebanon War—lying on the ground next to an IDF Humvee before it explodes; Hezbollah terrorists dressed as IDF soldiers are seen running from the blast.
Another video was published on a Hezbollah-affiliated Twitter account on Friday showing the 2006 kidnapping of IDF soldiers Ehud Goldwasser and Eldad Regev.

In the video the soldiers' bodies can be seen near an IDF Humvee when several Hezbollah terrorists dressed in what resemble the Israeli military's uniform run away from it before it explodes.

Hezbollah video of kidnapping

As the video continues, the terrorists are seen fleeing the scene both on foot and by car.

Two years ago, the Lebanese news channel Al Mayadeen, which is also affiliated with the Hezbollah group, published the dramatic footage of the kidnapping of the two soldiers in a three-part series containing testimonials on the kidnapping from the Israel-Lebanon border, which led to the Second Lebanon War in 2006.

In the first episode, fighters for the organization are seen training for the kidnapping in the summer and in the winter.



Imad Mughniyah, Hezbollah's international operations chief who was assassinated in 2008 in a joint Mossad-CIA operation in Damascus, is present in the last training drill before the kidnapping in an area that was similar to the actual scene. He is filmed giving instructions to terror cell

In addition, footage is shown from Hezbollah operatives that followed IDF patrols along the route used for the kidnapping. In this episode, Khaled Bazzi, the commander of the cell that captured the two soldiers and who was killed in fighting in the ensuing war, also appears. Al Mayadeen also broadcast voices from IDF radio communications in which Ehud Goldwasser is heard a short time before the car in which he was travelling was taken.

In 2012, the Beirut-based TV channel broadcast a video in which a Hezbollah cell is seen crossing the northern border an opening fire on an IDF hummer. The picture freezes as they reach the vehicle from which smoke rises. There was no recorded footage, however, of Goldwasser and Regev.