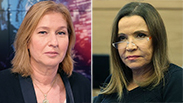 Livni and Yachimovich: Who will succeed Herzog?
Photos: Amir Shabi, Eli Segal
Battle begins in Zionist Union over opposition head job
After Herzog's appointment to chair the Jewish Agency, internal battles begin in his party for his existing job; Livni has a rotation agreement with Herzog, but new Labor leader Gabbay is in no rush to honor it, preferring Shelly Yachimovich for the role instead.
MK Isaac Herzog's appointment as the chairman of the Jewish Agency has launched a war inside his Zionist Union party over who would replace him as the head of the opposition.

The unity agreement between Herzog and Hatuna party leader MK Tzipi Livni included rotation over the job of the opposition chief, but to this day Livni has not demanded the position.

Be that as it may, Hatnua officials believe Livni has no intention of giving up the job now. As far as she is concerned, the rotation agreement remains valid, and she expects it to be honored.

Theoretically, Avi Gabbay, who defeated Herzog in the battle for the Labor party's leadership, is meant to be bound by the agreement his predecessor reached with Livni, but he has been in no rush to declare that

The response from Gabbay's media advisor leaves matters wide open: "We're happy about Isaac Herzog's appointment. He still has a month in the role (of opposition head). We'll release further details at a later date."

The head of the opposition must be a sitting member of Knesset, which is why Gabbay, who was elected to lead Labor but never voted into the parliament, cannot take on the job himself.

Labor officials said Gabbay was likely to want to appoint MK Shelly Yachimovich for the top opposition job. This could prompt Livni to break off the partnership between her Hatnua party and the Labor party, citing a breach of the agreement with Herzog.

The opposition head is a state official. He receives security briefings from the prime minister, protection services from the Shin Bet and travels in a non-military armored car.

Herzog's spot in the Knesset will be filled by former MK Robert Tiviaev.