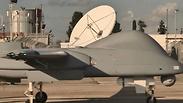 IAI Heron drone
Credit: IAI
Turkey's Minister of Defense Nurettin Canikli has claimed in a recent interview that Israel purposely sold Ankara 10 defective unmanned aerial vehicles (UAV), which is why Turkish aerial bombardments of Kurdish positions in Iraq failed, missing their targets or "hitting rocks."

The allegation was made in an interview Canikli gave to the conservative newspaper Yeni Şafak, which is affiliated with the ruling AKP Party in Turkey.

Canikli was referring to 10 Heron-model UAVs sold by Israeli Aerospace Industries (IAI) to Turkey as part of a $190 million deal signed in 2005. The deal was plagued with a series of disagreements between the two sides as Turkey claimed that Israel refused to provide it with spare parts.

Turkey also froze the deal in anger over Israeli actions in Gaza during Operation Cast Lead (2008-2009), further delaying the delivery.

"We received the Herons from Israel (in 2010). We paid many dollars for them, but we have never been able to effectively make use of them," Canikli told the paper. "They (Israel) did it on purpose, so that we cannot use them. Israeli engineers sabotaged the intelligence systems of the drone. Afterwards we realized that we bombed rocks and most of the targets were missed."

IAI released a statement saying the charges are "delusional and deserve no response."