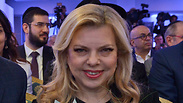 Prime Minister Benjamin Netanyahu's wife, Sara
Photo: Haim Zach, GPO
Hefetz recordings reveal Sara Netanyahu sent dirty laundry abroad for dry cleaning
Transcripts of conversations between the prime minister's former media advisor, who later turned state's witness, and the legal advisor of the Prime Minister's Office point to concerns over alleged misuse of state funds by the prime minister's wife.
Recordings made by state's witness Nir Hefetz, who served as Prime Minister Benjamin Netanyahu and his wife Sara's media advisor, reveal that the family had planned to renovate its villa in Caesarea at the state's expense, that suitcases filled with clothes had been taken abroad for dry cleaning services, and that the legal advisor of the Prime Minister's Office had tried to mislead reporters.

Hefetz recorded his conversation with the legal advisor of the Prime Minister's Office in the past 17 years, attorney Shlomit Fargo Barnea, revealing additional aspects of the way things are managed at the prime minister's official residence and at the Netanyahus' private home in Caesarea.

The recordings were released by the Israel Television News Company on Sunday evening, several days after an indictment was filed against Sara Netanyahu for fraudulently obtaining benefits under aggravated circumstances, fraud and breach of trust.

One of the conversations dealt with the private home's expenses which were imposed on the state's coffers.

Attorney Fargo Barnea: I don't want to be responsible for this. Yehuda (Weinstein, the former attorney general) should say that what applies to Balfour (the prime minister's official residence) applies to Caesarea. He should take responsibility. We can't receive a request, say no, and then he'll say yes. I don't want that. I want to act under his instructions. He is the attorney general."

Hefetz: Have you already said that to Yehuda?

Attorney Fargo Barnea: I said it to Natan (Eshel, Netanyahu's former right-hand man) too. I want the attorney general to instruct me how to act. I want Yehuda to say, "What applies to Balfour applies to Caesarea." Good, so everything will be very simple. Why are we playing this double game? Do I have to confront the prime ministers?

Hefetz stresses that the actions may be criminal.

Hefetz: I want to say something else. At the end of the day, the Caesarea story will reach the National Fraud Investigations Unit, so you have to know that you'll be at the National Fraud Investigations Unit and you'll say things that you can stand behind. I'm telling you to keep every piece of paperwork and everything you do.

Attorney Fargo Barnea: It's good that you're telling me this, because I've already been at the National Fraud Investigations Unit. FIY, I was at the National Fraud Investigations Unit in the gifts affair.

Hefetz: In the previous term?

Attorney Fargo Barnea: Yes. I gave a testimony there… I settled the dispute with (attorney) David Shimron when they came in.
'Why the hell do we need this piggishness?'
According to the recordings, Fargo Barnea encountered extremely unusual demands while working under Netanyahu.

Attorney Fargo Barnea: They want to arrange the entire yard (in Caesarea) according to an architectural plan they built for themselves. So we say, "Yes, what… No?"

Hefetz: There was such a thing?

Attorney Fargo Barnea: Yes.

Hefetz: What do you mean they wanted to redesign the yard?

Attorney Fargo Barnea: They're designing the yard. There's a plan.

Hefetz: Is the Prime Minister's Office paying for this?

Attorney Fargo Barnea: There's a plan with a simulation. They want the office to pay. They said there were damages as a result of the security work. We're saying, okay. The damages caused by the security will be restored back to the previous situation. But let's take a reasonable look at what needs to be restored. For example, they want a tree to hide a pillar or to make the wall higher, or to hide the wall that has been made higher, but everything has to be done logically. But now we need the earth and the plants and the climbing plants, and we need the supporters, and we need all kinds of cement, and there's a simulation of what their yard will look like. Why do we have to participate in the cost? We accepted it.

Hefetz: How much money was approved for it?

Attorney Fargo Barnea: I don't remember.

Hefetz: I believe the request was for hundreds of thousands of shekels.

Attorney Fargo Barnea: Tens of thousands.

Hefetz: Why the hell do we need all this piggishness?

Hefetz: Natan Eshel is constantly there working. In the past few months he has been walking around with real estate agents in Givatayim, showing them Sara's apartment and selling it for her. He would go there with his wife's car, so they won't recognize him as head of the prime minister's bureau.

Hefetz: Sara is obsessed with all kinds of old items. They have the old bathroom cabinets, the white ones from plastic which cost 60 shekels. They put it in bubble wrap and send the workers from here to bring it. Attorney Fargo Barnea: Listen, that's the exact same story like with the gifts, and I was at the police station. They told me, they found a child's sand spoon from plastic there.

Hefetz: Packed.

Attorney Fargo Barnea: Packed three times in bubble wrap.

Hefetz: Gil (Shefer, Netanyahu's former chief of staff) opened it because he was curious, and he was shocked.

Attorney Fargo Barnea: Who is funding these things?

Hefetz: What do you mean who is funding?

Attorney Fargo Barnea: The packing.

Hefetz: They both do everything… Gil says Natan (Eshel) himself packed it, Natan, physically.

Attorney Fargo Barnea: Come on, Nir, Gil says? I personally saw Natan and Ezra (Saidoff, a former deputy director-general of the Prime Minister's Office) standing in Caesarea and cleaning the air conditioner.
'We managed to deceive the journalist'
The recorded conversation reveals that the team surrounding the prime minister worked to avoid journalist's questions on the expenses of Netanyahu's private home in Caesarea.

One of those journalists was Yedioth Ahronoth and Ynet's Itamar Eichner, who eventually revealed the inflated expenses at the Prime Minister's Residence in a series of articles, as well as the affair of the outdoor furniture which was allegedly purchased for the official residence in Jerusalem but was then moved to the private home in Caesarea.

Attorney Fargo Barnea: There is routine maintenance all the time which amounts to a lot of money. I told Eyal and Natan, "Look, there was an appeal from a journalist who wanted to know the expenses of the prime minister's home in Caesarea." We managed to deceive him.

Hefetz: It was (Itamar) Eichner.

Attorney Fargo Barnea: We managed to deceive him, but it can happen again the next day. We have to protect the prime minister so he doesn't get involved in these things and we have to protect ourselves too. Tomorrow, someone will come and ask how we approved such things.

Hefetz: There are really big secrets there about the money. You gave me just one example about the gifts (a teapot received from German Chancellor Angela Merkel), but I knew there were a lot of cases of gifts that were sent directly to Balfour.

In the conversation, Hefetz describes Sara Netanyahu's habit of taking huge piles of dirty laundry abroad on state trips so she can send them for dry cleaning there.

Hefetz: I think she does all kinds of tricks in the hotel bills abroad to hide all kinds of expenses. Edna (Halbani, the director of international visits at the Prime Minister's Office) told me that at least four or five suitcases arrive for dry cleaning on every trip, and I'm telling you that journalists asked me about it and I checked the bills.

Attorney Fargo Barnea: There aren't any.

Hefetz: There's nothing about in the bills. They're somehow hiding it in…

Attorney Fargo Barnea: How is it not published?

Hefetz: Because I tell the journalists that I checked the bills and I checked with the Foreign Ministry, which approve the bills, and they say the extras are very small. But I can tell you for sure that there are four or five dry cleaning suitcases in every trip.

Attorney Fargo Barnea: Are they allowed to bring suitcases to send laundry?

Hefetz: They're entitled to laundry services abroad.

Attorney Fargo Barnea: But that's misuse of public funds, bringing laundry you're not going to use there just so it can be cleaned.

Hefetz: Listen, on one of the trips Gil Shefer said to me, "Eight suitcases arrived for dry cleaning." You have to understand, the budget for dry cleaning isn't actually limited. According to what Shefer says, she simply likes the smell.

Hefetz: Do you know what Edna once told me?

Attorney Fargo Barnea: What?

Hefetz: That Natan sent her in New Orleans to the hotel, to tell the hotel managers that it's Sara's birthday and that she would love to get a present. The thing is they wanted to guide them to give her creams, cosmetics. Natan told the hotel manager, "Don't bring her flowers, because she's allergic to flowers." That's nonsense, because the house on Balfour Street is filled with flowers. He said, don't give her chocolate either because she won't eat it. So they said, "What can we give her?" He said she really likes creams. She got a huge basket of creams from the hotel, Edna told me proudly.

Attorney Fargo Barnea: You know that's an illicit gift.

Hefetz: It is?

Attorney Fargo Barnea: Of course.

Attorney Fargo Barnea: I feel there are problem here which go beyond the problems we have usually encountered. I spoke to Yehuda and told him. He said to me, "What do you mean? Go to the prime minister and talk to him." I said, Yehuda, you don't understand where I'm living. If I go to the prime minister, I won't be in the office the next day. He's very suspicious. He won't listen to these things. He said, "So what do you do?" I said, look, I usually prevent these things. We created a work procedure.

An associate to the prime minister offered the following response: "So far, you have been dealing with food and takeout trays, and now you've moved on to false gossip about bubble wrap and AC cleaning. This is a pile of false gossip which has nothing to do with the truth."
'Whoever approached Netanyahu about his wife was beheaded'
Nahum Barnea reports that Shlomit Fargo Barnea felt nauseous following the release of the transcripts of her conversations with Nir Hefetz. She was emotionally upset, agitated and worried.
It's a difficult experience, she told her friends. I find myself between a rock and a hard place.
According to her self-examination, dealing with Sara Netanyahu's demands was nothing like her work with three previous prime ministers and their family members. The villa in Caesarea was the main problem. The other problem was the reactions to her decisions. She used to say no to other prime ministers too.
"The previous ones had demands too, but it was nothing like this," she told her associates. "I could have said 'no' to them and stayed alive. Here, I'm facing a hostile atmosphere. The pressure was intolerable.
"I didn't do anything that went against my conscience," she said. "We approved only what we were allowed to approve." At the home in Caesarea she only approved fixing damages caused by security changes. She didn't approve any other demands.
But the demands concerning the private home's maintenance kept flowing in and they still do. Their content was not the only problem. The main problem was the frequency. Fargo Barnea created a committee with the deputy director-general and the comptroller to decide which demands should be accepted and which should be rejected. In June 2016, she realized the demands were endless and dissolved the committee. Now, she only decides on legal issues. When the demand contradicts the procedure in her opinion, she hands it over to the Justice Ministry.
Why, her friends asked her, didn't you approach the prime minister?
"What would I tell him?" she asked. "Your wife is making illogical demands, demands that are against proper management? How would he respond? I knew he didn't want to hear a word about his wife. Whoever approached him about his wife was beheaded."
She chose a different option. She went to Attorney General Yehuda Weinstein, expecting that he would raise the issue in his weekly meeting with Netanyahu. Weinstein refused. He suggested that she talk to Netanyahu. The hidden message was: I don't want to hear. Deal with it on your own.
She expected Weinstein to make a decision on the villa in Caesarea: Determine that it should be treated like the official residence on Balfour Street, where the state must pay all expenses, or make an opposite decision. Weinstein didn't make a decision. He preferred to be nice.
Fargo told her friends on Sunday evening that she didn't deceive any journalists. She sent accurate statements to the spokesperson's office, and the statement released by the office later on was a deception.
She has learned her lesson. Today, she decides on legal issues only. When she is asked to decide on something she has no knowledge about, she hands the demand over to the Justice Ministry. The atmosphere remains: When she says no, she is treated like the people's enemy at the office.
If this is what happens to a professional legal advisor, imagine the pressures faced by a legal advisor who is personally appointed by the prime minister or by a minister.
Nahum Barnea contributed to this report.