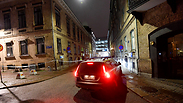 Scene of the attack in Gothenburg
Photo: AP
A Swedish court has found three men guilty of attempted arson against the Jewish synagogue in Sweden's second-largest city of Gothenburg last year, causing minor damage.

Two men got two years in jail and the third was sentenced to 15 months.

The Gothenburg District Court says Monday the case involved two Palestinians and a Syrian.

The 22-year-old Palestinian had his asylum application turned down following the December 9 attack and will be deported after serving his sentence. The others, aged 19 and 24, have Swedish residency permits.

The court said they were part of a masked group who threw burning objects at the synagogue, which the prosecution said was a reaction to the US decision to recognize Jerusalem as Israel's capital.

All three pleaded innocent. They were the only people charged.