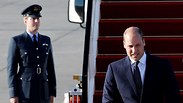 Prince William lands in Ben Gurion Airport
Photo: Reuters
Prince William arrives in Israel in first ever official Royal visit
Arrival of Duke of Cambridge ends monarchy's distant approach to one of the world's most sensitive regions as the 36 year old prepares to meet with Israeli and Palestinian leaders and visit landmarks in Jerusalem and sites in Tel Aviv; Kensington Palace tweets in Hebrew about the prince's arrival.
Prince William arrived in Israel Monday evening for the first-ever official visit by a member of the British royal family, touching down in Ben Gurion Airport where he was greeted by Tourism Minister Yariv Levin and Likud MK Amir Ohana.

His arrival ends the monarchy's mostly hands-off approach to one of the world's most sensitive regions. For the 36-year-old William, second in line to the throne, it marks a high-profile visit that could brandish his international credentials.

Prince William arrives at Ben Gurion Airport (צילום: עידו ארז)

Though the trip is being billed as non-political, and places a special emphasis on technology and joint Israeli-Arab projects, the Duke of Cambridge will also be meeting with Israeli and Palestinian leaders, and visiting landmark Jerusalem sites at the heart of the century-old conflict.

"I praised the prince for his arrival in Israel and told him that there is no better time to be in the Holy Land than the time of the World Cup because it will increase the chances of England winning the cup," Levin said after he greeted the prince.

"I sincerely hope that he enjoys every minute here. For the first time the barrier has been broken where the British Royal Family did not come to Israel," Levin added.

Prince William thanked Levin for the warm reception and asked him whether soccer is popular in Israel.

The prince arrived from Jordan, where he kicked off his five-day Middle East tour. He'll be staying in Jerusalem and travelling to coastal Tel Aviv and Ramallah, in the West Bank.

Prime Minister Benjamin Netanyahu welcomed Prince William on his Facebook page before his arrival. "A first historic visit by a representative of the British Royal Family. Welcome, Prince William," he wrote.

Kensington Palace published a tweet in Hebrew and English saying "Prince William arrives in Israel, on the first official visit by a senior member of the Royal Family."
Prince William arrives in Israel, on the first official visit by a senior member of the Royal Family

הנסיך ויליאם נוחת בישראל, לביקור הרשמי הראשון של בן משפחת המלוכה הבריטית. pic.twitter.com/2MCxP2scCz

— Kensington Palace (@KensingtonRoyal) June 25, 2018
Prince William will visit Yad Vashem Holocaust Memorial Museum and meet with survivors, view soccer match with a joint team of Jewish and Arab players and meet Israeli hi-tech entrepreneurs as part of his trip, which will also include a visit to the Palestinian Authority.
His first evening in Israel will be spent resting at the King David Hotel in Jerusalem.
He will visit Yad Vashem on Tuesday and lay a wreath at the Memorial Hall. In the afternoon he will meet with Prime Minister Benjamin Netanyahu and his wife Sara at their official residence.
On Tuesday afternoon Prince William will travel to Jaffa "where he will meet with young people involved in the work of two organisations focused on co-existence between the young people of different religious and ethnic communities – the Equaliser and the Peres Centre for Peace," an official statement says.
He will arrive at a soccer event hosted by the two charities and will spend time with children and teenagers involved in several of their projects, including one focused on empowering young women.
His next stop will be a visit to central Tel Aviv together with Mayor Ron Huldai. He will also attend a reception at the British Embassy in Ramat Gan together with 350 guests. The event will be broadcast live on the BBC.
On Wednesday, William will visit the Beit Ha'ir Museum and meet with representatives of leading Israeli start-up companies and watch a presentation on Israeli innovation. He will also meet with young activists, both Jewish and Arab, who are involved with youth, education and social programs. He is also expected to attend a cultural event, which has yet to be announced, in the city as well and not leave before paying the beach a visit.
Visiting the "occupied Palestinian territories"
The Prince's official schedule for Wednesday lists him going to the "occupied Palestinian territories." William will visit Ramallah and meet Palestinian Authority President Mahmoud Abbas.

There, he will attend an event focusing on Palestinian refugees and "celebrate Palestinian culture, music and food; and a chance to meet a number of young Palestinians. Full details will be announced during the visit," the statement said.

At night he will deliver a speech at a reception at the home of the American Consul in Jerusalem.

Thursday's schedule could cause controversy, with Kensington Palace announcing that the "programme in the Occupied Palestinian Territories will begin with a short briefing on the history and geography of Jerusalem's Old City from a viewing point at the Mount of Olives. From here His Royal Highness will travel a short distance to the Church of St Mary Magdalene where he will pay his respects at the tomb of his great-grandmother, Princess Alice."

Princess Alice was recognized as "Righteous Among the Nations" by Yad Vashem for saving a Jewish-Greek family during the Holocaust.

Israel has expressed anger with the palace's wording, believed to be formulated by the Foreign Office, known for its hostility toward Israel.