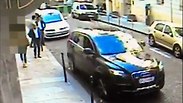 The vehicle before it was stolen
WATCH: IDF attaché's official car stolen under bodyguard's nose
As the attaché enters a meeting with an IDF general at a hotel in a European country, his local driver and Israeli bodyguard stand outside the luxury Audi jeep with its engine turned on; a thief quickly enters the vehicle and drives away. Car later found in a Muslim immigrants' neighborhood.
The official vehicle of an IDF attaché in a European country was stolen last week while the attaché's driver and bodyguard were standing right next to it, Yedioth Ahronoth has learned.

The attaché arrived at a hotel for a meeting with an IDF general who was visiting the city for work purposes. As he entered the meeting in the hotel, the local driver and the Israeli bodyguard were standing outside the luxury Audi jeep with its engine turned on.

A thief arrived from the other side, quickly entered the vehicle and drove away. A video documenting the incident shows the bodyguard running after the car, but it was already too late.

IDF attaché's luxury car stolen

Immediately after the vehicle was stolen, it was neutralized by remote control with the assistance of the Audi company, and the thief was forced to abandon it. The car was later found in a neighborhood of Muslim immigrants in the city. A wallet and two uniforms had been stolen from it.

The incident was reported to the relevant officials, who launched an investigation. Although the car was eventually located, steps will likely be taken against the embassy's bodyguards.