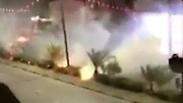 Protests in Khorramshahr, late Saturday
Iranian state media say protesters have clashed with police over water scarcity in the southwest for a second night.

IRNA says protesters threw stones and debris at police and set a car on fire in a protest that began late Sunday in the city of Abadan.

The report says police blocked roads near the protest and that the situation is "under control."

Similar clashes over water scarcity broke out in the nearby city of Khorramshahr late Saturday. Authorities say one protester and 10 police were injured, and videos posted online showed gunfire ringing out.

The Al-Arabiya network reported that at least four protestors were shot and killed by security forces in Khorramshahr on Saturday.

Videos circulating on social media show the protestors clashing with Revolutionary Guard forces, chanting "death to Khamenei" and "we were robbed in the name of religion."

According to the report, the news of the protesters' death came two days after major protests erupted in Khorramshahr as thousands of people gathered in front of the city's central mosque.

The rallies protested against what activists described as a deteriorating economic situation of their city, as well as the lack of support for their towns with slogans against "regime thieves" being heard.

These demonstrations join the wave of protests that has washed through Iran in light of the economic crisis and the local currency's collapse.

Iran called for calm on Sunday after the protests, rejecting claims of deaths.

"No one has been killed in the unrest and just one person has been wounded in a shooting," said Interior Minister Abdolreza Rahmani Fazli, quoted by the state news agency IRNA.

"Our effort is to bring these protests to an end as soon as possible with restraint from police and the cooperation of authorities, but if the opposite happens, the judiciary and law enforcement forces will carry out their duties," Rahmani Fazli was quoted as saying.

Abadan is home to Iran's biggest oil refinery. The two cities are in the oil-rich Khuzestan province, which borders Iraq and is home to a large Arab community. The region has suffered from a years-long drought.

Daniel Salami and Reuters contributed to this report.