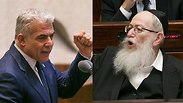 Lapid and Litzman
Photo: Ohad Zwigenberg
IDF draft bill passes first hurdle in the Knesset
63 MKs vote in favor of new IDF draft legislation, while 39 vote against; Haredi MKs fiercely argue against it; UTJ MK Eichler: 'Knesset has no moral right to sanction Torah students'; Shas MK Azoulay: 'Even if you have to sacrifice yourselves, don't stop studying Torah.'
The proposed IDF draft bill was passed in the Knesset in its first reading early Tuesday, with 63 MKs voting in favor and 39 voting against.

Knesset Finance Committee Chairman MK Moshe Gafni (United Torah Judaism) and some of Shas's members of Knesset initially left the plenum during the vote, and returned to vote against the bill only after making sure the coalition had the majority it needed to pass the legislation, with Yesh Atid indeed voting in favor.

Following the vote, Defense Minister Avigdor Lieberman, who is not a member of Knesset and therefore did not vote, praised the passing of the first hurdle toward the legislation's approval. "The Knesset showed responsibility," he wrote on Twitter.

"Stateliness has won over media spins and divisions. I hope the bill is approved in its current version in second and third readings as well and in this Knesset session," he added.

Ahead of the vote, ultra-Orthodox MKs fiercely argued against the proposed legislation, with United Torah Judaism MK Yisrael Eichler even wondering, "Do you really want the Haredim in the army?"

He determined that the Knesset had "no moral right to sanction Torah students. Imagine someone sanctioned students who don't adhere to a certain system of values. Where do you get the nerve to do that? There's a nuclear reactor here dismantling society."

Instead of mandatory military service, Eichler proposed "to establish a professional army in which anyone who chooses to enlist will be appreciated and paid properly."

The existing Israeli Defense Service Law expires in September after the High Court of Justice deemed it unconstitutional, and so the Knesset must pass an alternative law before then.

If a new law is not passed to regulate the exemptions of ultra-Orthodox yeshiva students, tens of thousands of them are expected to receive IDF draft orders.

The proposed legislation includes planned cuts to the yeshivot's budgets and the use of economic incentives to pressure the Torah study institutions to encourage enlistment, but no criminal sanctions.

The enlistment objectives, as stated in the proposal, are that 3,000 yeshiva students will be drafted in the first stage and 600 will volunteer for national service. The plan will be given a two-year adaptation period, in which sanctions won't be imposed if the yeshivot fail to meet the draft rates. In the third year, yeshivot who fail to encourage enlistment will be hit with economic sanctions if they drop below a 95-percent target.

Earlier, Deputy Health Minister Yaakov Litzman threatened to quit the coalition if the IDF draft bill proposal is passed into law.

"No one thinks or dreams that if (MK Yair) Lapid supports this bill, that we will support it too," Litzman, who leads the Hasidic Agudat Yisrael faction in United Torah Judaism, said at the Knesset.

"We need to get to a situation in which anyone who wants to study at a yeshiva can have an arrangement that allows him to continue studying uninterrupted, and that is why we will vote against the law," he explained.

MK Gafni asserted that "had it not been for the Torah students, there would've been no existence to the world."

He called on the Torah students "to continue studying the Torah. Those who study should continue and not listen to what's being said here."

MK Uri Maklev (UTJ) dismissed the discussion over the law, saying "There's no real debate here, this is a dialogue between deaf people." He also noted that "equality is no value when put against our right to exist."

Shas MK Yinon Azoulay also called on yeshiva students to continue studying. "I call on the Torah students, even if you reach a situation in which you have to sacrifice yourselves - don't stop your Torah studies," he said.

Deputy Defense Minister Eli Ben-Dahan (Bayit Yehudi) explained to "those who incite against this law" that "We have no intention to go into yeshivot and get Torah students out of there. Anyone who studies Torah and Torah studying is his job will continue studying Torah. But those who stopped studying will enlist. This situation of no enlistments for decades cannot go on."

Yesh Atid MK Yair Lapid, whose is in the opposition but is expected to nevertheless vote in favor of the legislation, pointed to the Haredi protests against the legislation taking place in Jerusalem as the Knesset was in session.

"As we sit here, Haredi are rioting across Jerusalem, and they understand more Haredim will have to enlist and join the job market," he said.

"There is no party more consistent than Yesh Atid on this issue. In the previous Knesset, the prime minister made impassioned speeches about the draft law we led. He and the justice minister (Ayelet Shaked), who were proud of the law, later voted against it," Lapid continued.

He was referring to the legislation his party passed while they were in Prime Minister Benjamin Netanyahu's third government and the Haredi parties were in the opposition, which was amended in Netanyahu's fourth government after the Haredim returned to the coalition and his own party was left in the opposition.

"This is a wound in the heart of Israeli society, and it will not heal until a law will be put on the Knesset's table like the one put there today, and we will all live here together as people who have a shared responsibility," he went on to say. "We need a law like this law so we know we're taking a step toward all of us carrying the same burden—the sacred duty to defend the people of Israel and the State of Israel."

"I'm not the one who signed off on this bill. The IDF did. The IDF chief did. And we're going with what the IDF wanted," he concluded.

Joint List MK Dov Khenin came out against the proposed legislation as well, saying the IDF draft law "is a bluff that only feeds the politics of hatred, which almost everyone in the political system stand to gain from, but the public loses. The army doesn't want to draft Haredim either, and this law will only drive many of the Haredi youth away from the job market because they will have to study to avoid enlistment."

He called to "cancel the restrictions that prevent the Haredim from joining the job market," explaining that "If we don't do this, we condemn a big public to continued life in poverty."

"Instead of farfetched and unrealistic laws, we need to promote equality, not create a mechanism that further deepends discrimination and social gaps," Khenin argued.

Meretz leader MK Tamar Zandberg aimed her attack at her fellow opposition members. "It's been a while since we've last seen such a masquerade. The world of imagery is insufficient for this purpose. Is Lapid the Messiah's donkey?" she wondered.

"This week will be remembered as one of our great misses as members of the opposition. Instead of all of us rising above (our differences) and standing united against Netanyahu, the battle became one between (Zionist Union head) Gabbay and Lapid," Zandberg added, referring to an earlier exchange of accusations between the two MKs.

Zandberg also attacked the legislation itself, telling UTJ heads Litzman and Moshe Gafni, "You know this law is Isra-bluff. There's no equality and no enlistment."

MK Itzik Shmuli (Zionist Union) argued that previous IDF chief Benny Gantz "said the need for Haredi enlistment was operational and national. This isn't a political whim... this plan is giving the green light to draft dodging, and it could endanger the 'army of the people.' This plan has no economic and criminal sanctions, and without them we can't enforce anything."

Zionist Union's Knesset faction leader MK Yoel Hasson pointed out that the legislation was different to a memorandum issued by the Defense Ministry. "As we said, this version is diminished because it includes the Zionist yeshiva students, who enlist anyway, in the annual enlistment quotas," he said.

Before the vote commenced, coalition chairman David Amsalem announced there has been a technical error that included students from Hesder yeshivot (a Zionist reigious yeshiva program combining advanced Talmudic studies with military service) under the purview of the law. The Yesh Atid party asked Amsalem for a written commitment that the error was indeed only technical in nature and would be remedied in future versions of the legislation. Amsalem then wrote a document confirming this and signed it.

But Hasson was unconvinced, telling the Yesh Atid party, "Don't trust a letter with false promises, this is a bluff."