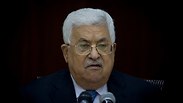 Palestinian President Mahmoud Abbas
Photo: AP
PA: Law to deduct terrorists' salaries from tax money 'a declaration of war'
Palestinian President Abbas' spokesman says Knesset crossed a 'red line' in its decision to deduct terrorists' salaries from roughly $130 million in monthly tax revenues Israel collects on behalf of Palestinian Authority; MK Zahalka slams vote, accuses Israel of 'murdering 547 children in Gaza.'
The Palestinian Authority strongly condemned the Knesset on Tuesday for passing into a law a bill proposal to deduct terrorists' salaries from roughly $130 million in monthly tax revenues Israel collects on behalf of the Palestinian Authority, defining the move as "a declaration of war on the Palestinian people."

Palestinian President Mahmoud Abbas' spokesman, Nabil Abu Rudeineh, said the PA considered the law a "red line" and threatened that its implementation would lead to "harsh Palestinian decisions."

"The Palestinian presidency strongly refuses to accept this severe decision, which damages the foundations of the relations since the Oslo Agreement to this day," Abbas' spokesman said. "If this decision is implemented, it will prompt important Palestinian decisions to deal with it."

According to Abu Rudeineh, "This issue is considered a red line which no one can cross. It's a declaration of war against the Palestinian people, its fighters, its prisoners and its fatalities, who have carried the flag of freedom for Jerusalem and the establishment of the independent Palestinian state. The Israeli government must back down from its decisions and stances so that we don't reach a dangerous, dead-end road."

Youssef Al-Mahmoud, a spokesman of the Palestinian Authority government in Ramallah, also condemned Israel's move, saying the money belonged to the Palestinians and Israel had no right to hold it back and was violating signed agreements.

"This money belongs to the Palestinian people and this is legislation to steal the money of the prisoners and the martyrs who are symbols of freedom for us and they must not be harmed," Mahmoud said.

In a bipartisan vote Monday, 87 MKs supported the legislation while 15 opposed it.

Under the new law, which was sponsored by MKs Elazar Stern (Yesh Atid) and Avi Dichter (Likud), money that would otherwise go to pay stipends to roughly 35,000 families of Palestinian terrorists and their families will be automatically frozen in accordance with the Paris Protocol—without the need for a special approval from the Cabinet.

According to the law's sponsors, the PA paid terrorists over NIS 4 billion over the past four years from its so-called "martyrs' fund," with NIS 1.2 billion (roughly $330 million) being paid in the last year alone.

During the stormy session that preceded the vote, Joint List MK Jamal Zahalka accused Stern and Dichter of being "shameless, uncultured. They support the murder of Palestinian children. You all supported the bombing of Gaza. You murdered Palestinian children. Who among you came out against it?"

Speaking at the Ynet studio on Tuesday, Zahalka said: "The Palestinian people are fighting for their freedom and independence against a cruel foreign occupier. The Israeli government murdered 547 children in Gaza. It's a war crime and it's terrorism. The Oslo Agreement is being eliminated here. The Israeli government is taking the convenient things from Oslo and screwing the Palestinians."

Reuters contributed to this report.