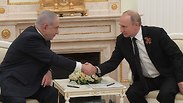 PM Netanyahu and President Putin
Photo: Amos Ben Gershom/GPO
Prime Minister Benjamin Netanyahu will meet with Russian President Vladimir Putin next Wednesday, the same day on which the semifinals of the World Cup are played in Moscow.

The meeting will be the second between the two leaders within two months, with their last tête-à-tête taking place on May 9.

Just over a week ago, it was reported that Putin had invited the Israeli premier to his country to watch the final game of the World Cup in mid July, but Netanyahu had not made a decision at the time.

The invitation was also extended to other world leaders, including Palestinian Authority President Mahmoud Abbas.

Lines of communication between Netanyahu and Putin have experienced significant activity in recent years, with the two leaders holding a series of meetings in a bid to avoid an accidental clash between Russian and Israeli forces in Syria where the Kremlin is propping up Jerusalem's foe President Bashar Assad.

In a telephone call at the end of last month, Putin agreed to strengthen coordination on Syria with Netanyahu, according to a Kremlin statement.

They discussed joint efforts to ensure security in the area of the Syrian-Israeli border, the Kremlin said, with Putin seeking Israeli approval to return Assad's forces back to the southern border on condition that no Iranian forces or Hezbollah terrorists remain in the area.

In May, Netanyahu met with Putin at the Kremlin on a day marking Russia's World War II victory over Germany, stressing to him Iran's similarities to the Nazi regime and Israel's right to defend itself against it.

"We in Israel do not forget for a moment the great sacrifice of the Russian people and the Red Army in the victory over the Nazi monster,"

Netanyahu remarked at the beginning of their meeting, ahead of a parade commemorating the occasion.

"Neither do we forget the great lesson of the need to stand against a murderous ideology in time," he continued. "It is unbelievable, but 73 years after the Holocaust, there is a country in the Middle East, Iran, that is calling for the destruction of anther six million Jews."