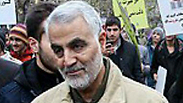 IRGC praises Rouhani threat to disrupt regional oil exports
After Iranian president implied Tehran might stop oil exports from the region if the US makes good on its threat to cut the Islamic Republic's oil revenues, Quds Force commander Qasem Soleimani tells Rouhani, 'I kiss your hand for expressing such wise and timely comments.'
A senior Iranian Revolutionary Guards commander said on Wednesday that the Guards were ready to implement a policy preventing regional oil exports if Iranian oil sales were banned by the United States.

President Hassan Rouhani appeared on Tuesday to threaten to disrupt oil shipments from neighboring countries if Washington presses ahead with its goal of forcing all countries to stop buying Iranian oil.

The comments, published on Iran's presidential website on Tuesday and partially repeated at a later news conference in Switzerland, could be open to interpretation. However, when asked whether he intended to make a threat, Rouhani declined to provide a clarification.




Praising Rouhani's remarks, Major-General Qasem Soleimani said he was ready to implement such a policy if needed.

"I kiss your (Rouhani's) hand for expressing such wise and timely comments, and I am at your service to implement any policy that serves the Islamic Republic," Soleimani, commander of foreign operations for the elite Revolutionary Guards, said in a letter published by state news agency IRNA.

Rouhani did not elaborate on his threat but Iranian officials have in the past threatened to block the Strait of Hormuz, a major oil shipping route, in retaliation for any hostile US action against Iran.

"The Americans have claimed they want to completely stop Iran's oil exports. They don't understand the meaning of this statement, because it has no meaning for Iranian oil not to be exported, while the region's oil is exported," the website, president.ir, quoted him as saying.

When asked at a news conference in Bern later on Tuesday whether those comments constituted a threat to interfere with the shipping of neighboring countries, Rouhani said: "Assuming that Iran could become the only oil producer unable to export its oil is a wrong assumption ... The United States will never be able to cut Iran's oil revenues."

The United States pulled out of a multinational deal in May to lift sanctions against Iran in return for curbs to its nuclear program. Washington has since told countries they must halt all imports of Iranian oil from Nov. 4 or face US financial measures, with no exemptions.

Rouhani said the new US pressure would never succeed.

"It is incorrect and unwise to imagine that some day all producer countries will be able to export their surplus oil and Iran will not be able to export its oil," he said.

The Iranian president is in Europe to gather support ahead of a meeting later this week between Iran and the five global powers that are still party to the 2015 nuclear deal.

"Iran will remain committed to the deal, as long as its interests are preserved," Rouhani said. Tehran said its foreign minister would meet counterparts from US allies Britain, France and Germany, as well as Russia and China, in Vienna on Friday to discuss ways of maintaining the nuclear deal.

The five other powers have all said they still support the deal despite the US decision to withdraw. Iran has asked the European countries to come up with a new economic package to offset the US sanctions and preserve the accord.

"At the meeting, which will be held at the request of Iran, foreign ministers of Iran and five world powers will discuss a proposed European package and measures to protect the agreement," Iranian state news agency IRNA reported on Tuesday.

The signatories to the deal, minus the United States, have been working on a ministerial meeting in Vienna for weeks and the date has slipped several times since preparations began.