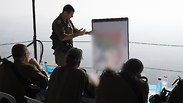 Eisenkot in a briefing in the north
Photo: IDF's Spokesperson's Unit
IDF Chief of Staff Lt. Gen. Gadi Eisenkot received a military briefing in northern Israel on Wednesday during a visit to the 366th Division in the Golan Heights as Syrian President Bashar Assad's army continues its campaign to reclaim the last rebel-held strongholds in southwest Syria.

IDF Operations Division's head Maj. Gen. Aharon Haliva, Planning Division Maj. Gen. Amir Abulafia and the Research Division's head Brig. Gen. Dror Shalom were also at attendance.

Eisenkot was apprised of the situation following the vicious assaults launched by Assad's army in the rebel-held cities in southwestern Syria. He also discussed the readiness of the Northern Command to act if needed with its commander Maj. Gen. Yoel Strick and the 366th Division's commander Brig. Gen. Amit Fisher.

The IDF is monitoring the situation in Syria and is prepared for a variety of scenarios to preserve the security on Israel's border, according to a statement given by the IDF's Spokesperson's Unit.

While the military also added it would continue providing Syrian refugees with humanitarian aid on Syrian soil, it said that it would continue to prevent them from entering Israel's territory.

The rebel groups and Assad's army have held several rounds of talks mediated by Jordan and Russia in a bid to put an end to hostilities. Jordan's Foreign Affair Minster Nasser Judeh met Wednesday with his Russian counterpart Sergey Lavrov in Moscow to discuss the situation in Syria and the future of the refugees in southwestern part of the war-torn country.

Earlier, the rebel groups demanded to immediately cease fighting in south Syria and prevent Assad's forces from entering to opposition-held areas in the south, according to the Al Jazeera network.

In addition, the opposition said it would disarm itself of heavy weapons in exchange for a withdrawal by Assad's army from territories which were captured in recent days.

Furthermore, it was suggested to renew the activity of Syrian institutions by the south's residents and to establish a military central force.

The opposition demanded that the border passage with Jordan be opened under the joint supervision of the Russian police and local residents as part of a comprehensive plan to cease the bloody fighting in southern Syria.

Despite reconciliation talks, the Syrian Observatory for Human Rights reported that battles in the Daraa province and in southern Syria were renewed intermittently on Monday.

Assad's regime continues releasing daily reports of further rebel-held areas being seized, including in southern Syria and other areas of the country.