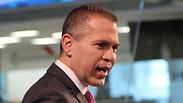 Minister Gilad Erdan
Photo: Avi Moalem
Erdan confirms trying to kick-start prisoner swap talks with Hamas
In exclusive Ynet interview, public security minister says 'every effort through diplomatic channels' being made to begin talks with terror group which is holding Israeli citizens, remains of IDF soldiers; says Israel insufficiently prepared for earthquakes day after country is rocked by 2 in 24 hours.
Public Security Minister Gilad Erdan confirmed Thursday that Israel is undertaking efforts to kick-start talks with Hamas to secure the release of Israeli citizens and the remains of IDF soldiers, following reports that Germany is acting a mediator between the two side in a possible prisoner exchange deal.

According to a report that was published on Thursday by Al-Hayat newspaper, Germany is in talks with about the deal that may see the return of IDF soldiers Lt. Hadar Goldin and Staff Sgt. Oron Shaul, who were killed during Operation Protective Edge.

The two soldiers' remains have been held by Hamas since they were killed in the 2014 operation. The deal may also include the return of Israeli citizens Avera Mengistu and Hisham al-Sayed in exchange for the release of Palestinian prisoners jailed in Israel.




According to the report, German envoys made several secret visits to the Gaza Strip and met with Hamas officials to discuss the possibility of implementing the prisoner exchange deal.

"Without elaborating on which diplomatic channel, I can say that I recently received an update on the matter. The State of Israel and the envoy that was appointed for this—former senior Shin Bet official Yaron Bloom—are making every effort through diplomatic channels to try and begin talks, a negotiation with Hamas, not directly of course, to return our soldiers and our citizens, but through a political channel," Erdan said during a Ynet studio interview.

He also said he was in agreement with the Goldin family which has persistently called on Israeli to do everything to demonstrate to Hamas that holding onto soldiers is not an asset but a burden for the Gaza-ruling organization.

Turning to the ongoing phenomenon of incendiary kites and balloons flown from the Gaza Strip into Israeli communities, Erdan reiterated his position that their launchers should be shot and that the IDF should not make do with mere warning shots fired in their direction.

"There was no vote in the Cabinet on the matter and I suggest that you ask who is responsible for calling votes," Erdan said in an apparent criticism of Prime Minister Benjamin Netanyahu.

"I don't decide what goes up for a vote. The chair of the Cabinet is the prime minister of Israel and if he thinks that something should be put to the vote he raises it … My position is that we should be shooting directly at the kite launchers," the minister continued.

"The IDF says it is on its way to to solving the problem and at the end of the day, political echelons don't deal with tactics and with how to handle the phenomenon. They deal with policy and we need to stop it," Erdan added.

Israel's response was already "extremely late," Erdan argued, describing the situation on the Gaza border as an intolerable one that cannot be allowed to continue.

Asked if a policy had been formulated to counter the flaming kites, Erdan responded: "I don't know. I suggest you ask the defense minister."

The minister also commented on Israel's preparedness for earthquakes after two rocked the country within 24 hours on Wednesday.

"No country in the world is 100 percent ready for every emergency scenario. We are not sufficiently prepared," he acknowledged, calling on the state to "put its hands into its pockets" and allocate resources urgently.

"The Defense Minister, which is responsible for readiness of the Home Front, presented a similar plan to the one I prepared in 2014 which cost NIS 5 billion," Erdan said.