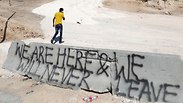 Khan al-Ahmar
Photo: Reuters
Israel's top court suspended on Thursday the planned demolition of a Bedouin village in the West Bank whose fate has become a focus of Palestinian protests and international concern, a lawyer for the residents said.

The Supreme Court injunction, issued a day after Israeli security forces sparked scuffles at Khan al-Ahmar by moving in bulldozers, gave the state until July 11 to respond to the villagers' contention that they had been unfairly denied building permits, lawyer Alaa Mahajna told Reuters.

The court spokesman could not be reached for comment.



Around 180 Bedouin, raising sheep and goats, live in tin and wood shacks in Khan al-Ahmar. It is situated between a major Israeli settlement, Maale Adumim near Jerusalem, and a smaller one to the northeast, Kfar Adumim.

Palestinians say Israeli building permits for Khan al-Ahmar have been impossible to get. Israel says the village poses a threat to security due to its proximity to a highway and the Supreme Court approved the demolition in May.

Israel said it plans to relocate the residents to an area about 12 kilometres away, near the Palestinian village of Abu Dis.

The new site is adjacent to a landfill and rights advocates say that a forcible transfer of the residents would violate international law applying to "occupied" territory. The United Nations and European Union have come out against the plan.

Palestinians argue that the West Bank, which Israel captured from Jordan in the 1967 Six-Day War, is occupied territory, while Israel argues that it is disputed land.

Interviewed before the Supreme Court injunction on Thursday, Public Security Minister Gilad Erdan signalled that the Khan al-Ahmar demolition might not be imminent.

Noting the level of international opposition to the move, Erdan told Ynet: "I hope this decision will be implemented in the coming weeks."

According to the Israeli pro-settlement group Regavim, the village was illegally built in the first place as a step to establishing a de facto Palestinian state.

"European countries initiated and funded illegal construction throughout this area, with the stated goal of assisting the Palestinian Authority's efforts to seize control of the Ma'aleh Adumim region and establishing facts on the ground in the service of a de facto Palestinian state," a press release stated.

The statement went on to urge the Supreme Court to carry out its original demolition order.

"The decisions of the Supreme Court must be enforced—equally and without capitulation to cynical, hypocritical manipulation, if the Israeli system of law, and Israel's sovereignty in general, are to be taken seriously at home and abroad."