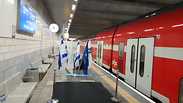 Ra'anana train station
Photo: Israel Railways
Israel Railways announced Sunday that it will be shutting a number of train stations this weekend in the north and center of the country due to infrastructural work and track upgrades.

Beginning Thursday at midnight, the Haifa Bat Galim Station will be closed until Saturday night. Trains between Tel Aviv and Lod will also cease operating the same day until 5am Sunday morning.

The closure in Haifa is due to track upgrades at the railroad crossing near the Bat Galim Station. The Tel Aviv-Lod line disruption is due to track electrification for the forthcoming high-speed train line between Tel Aviv and Jerusalem.

In accordance with the closure of Bat Galim Station, trains north of Haifa (including Nahariya, Acre, Carmiel, and the Jezreel Valley line to Beit She'an) will begin and end service at Haifa Center HaShmona Station.

Trains between Haifa and Tel Aviv will travel as far as Haifa Hof HaCarmel and will not continue further north.

Due to the closure of the rail line between Lod and Tel Aviv, northbound trains from south Israel, including the express Be'er Sheva line, will conclude their journeys at Lod Station. Trains from Tel Aviv to Be'er Sheva will travel along the coastal line via Ashdod and Ashkelon.

Other train lines are not expected to be affected.