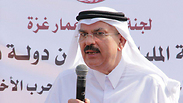 A Qatari diplomat working behind the scenes to ease tensions at the Israel-Gaza border suggested that Palestinians would stop protests and sending incendiary kites across the border if Israel were to allow in 5,000 Gazans on work permits.

Qatari envoy Mohammed Al-Emadi floated the idea during an interview with Israeli public broadcaster Kan on Sunday.

Israeli and Hamas officials had no immediate comment on the Qatari proposal.


For weeks Palestinians have been letting loose incendiary balloons and kites, setting fire to thousands of acres of farmland and forests in southern Israel.

Gaza is controlled by the Islamist terror group Hamas. Israel, citing security concerns, restricts movement of goods and people across the border.

A string of weekly violent protests that were staged on the Gaza border by thousands of Palestinians resulted in the death of 136 residents of the coatal enclave. Israel says the vast majority were shot while carrying out terror activities, many of whom were Hamas members.

Al-Emadi said that were Israel to let in workers from the Gaza Strip, where much of the population lives in poverty, the border protests and kite attacks would cease.

"It could start for example with 5,000 people in Gaza who would work in Israel. That is good. That would stop the protests, the fires, the kites and the balloons," Al-Emadi said.

Al-Emadi, who said he has mediated between sides when things get tense, added that there was no significant progress in efforts to secure the release of Israeli civilians who are being held prisoner in Gaza or of dead solders who are being held by Hamas.

Israel has demanded the return of two Israeli civilians—Avera Mengistu and Hisham al-Sayed—who it says crossed into Gaza and are being held by Hamas, as well as the bodies of Lt. Hadar Goldin and Staff Sgt. Oron Shaul who were killed in a 2014 war. Hamas says it is holding them but does not give any details.

Last Sunday, Al-Emadi confirmed for the first time that Israel is holding indirect discussions with Hamas in an effort to formulate a solution to the humanitarian crisis in the strip that will include infrastructure projects.

It was the first time ever that a senior diplomat involved in Gaza has admitted that such talks are taking place.