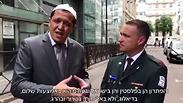 Hassen Chalghoumi and Ronen Manelis
Photo: The IDF Spokesperson's Unit
French Imam Hassen Chalghoumi, who is known for his criticism of Islamic fundamentalism, has recently received death threats following the release of a video in which he talks with IDF Spokesman Brig. Gen. Ronen Manelis in Paris.

Chalghoumi, who visited Israel in the past, campaigns to promote interfaith dialogue and is fighting against racism and hatred of Jews and Israel.

The Imam has received death threats for his views and actions in the past, but he appears undeterred by them.

Hassen Chalghoumi (צילום: דובר צה"ל)

During Chalghoumi and Manelis' meeting last Wednesday, the two discussed Islamic fundamentalism and the situation in the Middle East.

After the meeting, the two recorded videos in Arabic and Hebrew, in which Chalghoumi attacks Hamas, the Muslim Brotherhood, and Iran.

He also described Islam as a religion of tolerance and dialogue.

The video was posted on the IDF Spokesperson's official Facebook page, as well as other IDF social media platforms, in Hebrew and other languages.

The video resulted in widespread criticism of Chalghoumi on Arabic-speaking social media sites, where he was accused of becoming a traitor and an "advocate for the Zionists."

Pro-Hezbollah television channel Al Mayadeen aired a report on the meeting and heavily criticized the French Imam.

Chalghoumi has so far rejected all requests to take down the video, insisting his statements are legitimate, and that he has an obligation to express them.

He said he filed a complaint with the French police against those who made threats on his life.