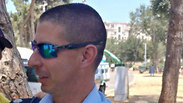 Police officer Ido Katzir
Photo: Israel Police
Jerusalem's Magistrate's Court convicted Tuesday Superintendent Ido Katzir, a police officer for assaulting an ultra-Orthodox demonstrators on several occasions in 2017.

Katzir, who served in the community police unit in the Lev Habirah station in Jerusalem, was indicted in February 2018 for hitting a number of Haredim during a protest in Jerusalem against the IDF draft. He was charged with two counts of assault.

During a January 2017 protest in Jerusalem's Kikar HaShabbat, ultra-Orthodox demonstrators blocked traffic and the police were called to maintain order and open the road. One of the protesters heard another shout at a Yasam riot police officer: "Koshi go home!"—a derogatory insult against black people.

Katzir grabbed a protester he mistakenly thought was the one who shouted the racial slur, led him to the side and hit him in the face. The victim removed his glasses to protect them as Katzir struck him again shouting: "Do you understand?"

A second incident in which Katzir was accused of using unlawful force took place in September 2017 at the same location. The protest was in response to the arrest of a Haredi yeshiva student accused of desertion from the IDF.

During the protest, roads were blocked and the police were called to reopen them using force if necessary. The protesters resisted the police's calls and refused to leave their position.

As the protesters pushed, kicked and threw objects at the officers, including stones and bottles, Katzir was wounded during the incident.

In response, Katzir approached one protester and kicked him in the back as he was lying on the road. He then kicked another protester.