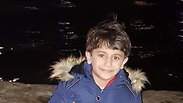 Seven-year-old Karim Jumhour
After the seven-year-old Karim Jumhour had been allegedly kidnapped Tuesday evening from his home in the Arab city of Qalansawe, his father Jaber told Ynet, "The perpetrators demanded NIS 4 million and I don't want to pay. I'm waiting for the child to return safe and sound."

Bolstered police forces have been working since the kidnapping to locate Karim's whereabouts.

The police investigation has so far concluded that the boy had been kidnapped from his home entrance and was dragged into a getaway vehicle escaping the scene.

The family is having difficulties coping with the hard news.

"The boy was playing with his friend at the entrance to the house. A vehicle pulled over and a man wearing a mask stepped down, grabbed Karim, pushed him into the vehicle, and fled the scene with additional people inside it," Karim's father recalled.

"They attempted to grab another child, but escaped before succeeding.

The father added that his wife and their entire family are still in shock. "We can't digest what happened. At least they didn't manage to kidnap another child."

Qalansawe's residents are visiting the family to show their support of Karim's parents and relatives. Mayor Abdulbast Salameh came to offer his assistance as well.

"It's a dreadful incident. We can't sit idly by," the mayor elucidated.

"At this point we have no details about the boy. We are waiting for good news. The most important thing is to bring back Karim," he concluded.

Issam Tayeh, a Qalansawe resident said, "This incident crossed all red lines. This boy is like a son to all of us. The sorrow has penetrated to each and every home in Qalansawe. We feel abandoned."

"We pray for the boy to come back to his family and urge the kidnappers to return him as soon as possible," he added.