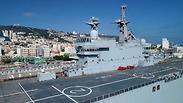 French Navy Dixmude
Photo: GeoDrone
Ahead of a joint French-Israeli Navy exercise, the French Embassy hosted a special reception Tuesday evening on the Helicopter Carrier Dixmude, which is currently docked at the Haifa Port.

The event was attended by French Ambassador to Israel Hélène Le Gal and French Navy officers along with military attaches and Israelis with French citizenship, some of whom will return to France with the ship.

Ceremony aboard the vessel (צילום: שמיר אלבז, גיאודרונס)

Le Gal praised the cooperation between the two militaries, pointing out that ISIS is the mutual enemy of both countries.

The ambassador noted that 11 French Navy ships have docked in Israel since the beginning of the year, more than any other foreign country.

"I am proud that the Dixmude is in Haifa. It demonstrates the quality of the cooperation between our countries and that there exists a strong amount of trust," she said. "We have practiced joint drills in the past and we will continue to do so in the future … I hope the Israeli public appreciates this."




The Dixmude, which can carry 12 helicopters, seven of which can land and take off simultaneously, arrived in Israel as part of mission which left France in February and has been primarily cruising the seas of the Far East and Australia.

The ship's commander captain Jean Porcher, said that his men did not take part in military operations but were fortunate to have sailed through regions of conflict.

Its mission consisted of training as well as demonstrating presence in conflict zones.

The Dixmude, which has a maximum capacity of 1,000 people, is being staffed by a team of 450 officers and sailors, including 45 women. 110 new cadets received their training during its voyage and some of the crew's airmen are British.

The ship is carrying amphibious vessels as well as vehicles for ground operations. On its current voyage it also tested an aerial drone for scanning, rescue and medical emergencies.