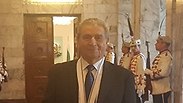 Israeli author Michael Bar-Zohar
The Israeli author and former MK, Professor Michael Bar-Zohar, received Monday the presigious Bulgarian Stara Planina First Class award at a ceremony attended by Bulgarian ministers, politicians and dignitaries, as well as representatives of the Jewish community in Bulgaria.
In his speech, Bar-Zohar spoke about two major contributions Bulgaria had made to Israel. The first, he said, was that the country refused to comply with the Nazi regime's demand for deportation and cancelled the deportation plan of 48,000 Bulgarian Jews. Secondly, he continued, Bulgaria permitted the immigration of its Jews to Israel.
Prof. Bar-Zohar receiving the Bulgarian award
"I spoke about the strong and deep connection between Bulgaria and Israel, and about the need to strengthen the ties between the countries, since they share a common ground. Both have strong moral principles, and that is truly the source of their strength," he said.
The writer, who was born in Bulgaria in 1938 and immigrated to Israel at the age of 10, was one of the founding fathers of the Rafi party, and after the Six Day War he served as spokesman for the Ministry of Defense.
Bar-Zohar later became a member of the Labor Party. He was elected to the Knesset in the 1980's and was appointed chairman of the Education and Culture Committee. In addition, he gave lectures at the University of Haifa and Emory University in the US.
At the same time, Bar-Zohar published several books, including the official biographies of David Ben-Gurion and Shimon Peres.
Overall, he published more than 35 nonfiction books, and several novels, one of which, "The Enigma", was adapted to the big screen. His latest book, published a few months ago, is titled "A Brief History of Israel."
His books have been translated into 29 languages, and he is the recipient of several awards, including the Sokolov Award, the French Academy Award, the Ben-Gurion Award, the Prime Minister's Award, and the Knight of the French Legion of Honor's title.
Bulgarian President Rumen Georgiev Radev expressed his gratitude for the author's contribution to making known the history of the rescue of the Jewish community in Bulgaria during WWII. Bar-Zohar also received the award for his contribution to the development of bilateral relations between Bulgaria and Israel.