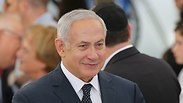 Prime Minister Netanyahu
Photo: Alex Kolomoisky
Prime Minister Benjamin Netanyahu on Thursday defended the nationality bill, saying it is what the majority wants.

"We will continue to protect the rights of the individual and the group, but the majority also has rights, and the majority rules," the prime minister said at the annual memorial service to Ze'ev Jabotinsky.

"The vast majority of the people want to ensure the Jewish character of our state for generations," he asserted.

The legislation, which is scheduled to go to a vote in the Knesset next week, has been met with criticism from the opposition, the Knesset's legal advisor, the deputy attorney general and even President Reuven Rivlin.

"Jabotinsky stuck to one basic value: preserving our unique national character in our homeland. He did not believe that we could preserve our national uniqueness anywhere other than our homeland, and that is the basis for everything else," Netanyahu continued.

"He said that we must preserve our national uniqueness here, in Israel, and it is this principle that guides us in drafting the nationality bill, which I hope to pass soon in the Knesset," he continued.

"This combination of the rights of the nation and the rights of the individual give meaning to the words 'a Jewish and democratic state,' and Jabotinsky undoubtedly believed in this principle, sanctified it, fought for it, and we continue it," the prime minister concluded.

The memorial ceremony for Ze'ev Jabotinsky, held on the 78th anniversary of his death, took place on Mount Herzl, where he is buried. The event was attended by Knesset Speaker Yuli Edelstein and Supreme Court Justice David Mintz, as well as Ministers Ze'ev Elkin and Ofir Akunis, members of Jabotinsky's family and other MKs.

The coalition is preparing to pass the nationality bill in second and third readings in the Knesset next week, but due to strong opposition to the legislation by Attorney General Avichai Mandelblit and the Knesset's legal advisor Eyal Yinon over article 7b, which allows groups to establish exclusive communities based on religion and nationality, the legislative process has been halted.

Mandelblit met Thursday with ministers Yariv Levin and Tzachi Hanegbi (Likud) to draft a new version of the problematic article, which will be brought to Netanyahu for approval. But even if the dispute over this article is resolved, the legislation will still be challenged by the ultra-Orthodox factions, who claim its current version weakens the Knesset's power and increases the power of the High Court of Justice.