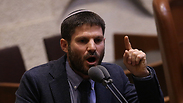 MK Bezalel Smotrich
Photo: Alex Kolomoisky
We could argue about the nationality bill. Some would claim it's unnecessary. Others would claim it's both unnecessary and stupid. And there are those who would claim it's unnecessary, stupid and reeks of racism. Every opinion is legitimate.

I don't know whether the nationality bill is really the answer to the nationalistic heart's desires of "the people." The people have been living just fine without this law and didn't feel like anything was amiss.

All of the elements the bill is meant to enshrine into law are already part of our daily lives: Arabic is not Israel's second official language in practice anyway, and those who want to have apartheid, have it uninterrupted—both in communities that have declared themselves free of the "other" and in those that simply declared themselves free of Arabs or seculars.

If there's something Israel has no shortage of, it's nationalism. We have nationalism to spare. In fact, an evidence of its existence is in the claim made by its critics: It's not that nationalism hurts others (damn the others), but in its declarations, it could—heavens forbid—hurt us. "Why declare?" they cry out.

Racism in theory—unlike the blessed racism in practice—could draw the attention of the gentiles, heaven protect us, and these anti-Semites might vote against us in some unknown vote. If it hadn't been for the gentiles who rush to attack us over such matters, we could've calmly discriminated until the Messiah came to redeem us. Careful, Jews.

Universal views of equality are not common currency in the State of Israel. They're special medals sold to tourists and foreigners.

On the other hand, if we only accept opposition to the legislation "for the right reasons," we probably won't get too far. We must not become Tehran. And here is where I once again refer to one of the preeminent racist thinkers in Zion, MK Bezalel Smotrich.

Like me, Smotrich also doesn't like purism. Take, for example, his response to President Rivlin's condemnation of the proposed legislation: "The president's purism derives either from blindness or from great moral confusion about Zionism."

The punch-line is coming, but before that allow me two minutes of contemplation, as all of Smotrich's words are meant to provoke thought.

My first thought is that the nationality bill was not meant to meet the needs of the people, but the needs of Smotrich's party, Bayit Yehudi. The Likud and Bayit Yehudi parties are in a competition to see who could be nationalistic in a more preposterous and foolish way and who could annoy "the Left" more. The question of national interest is irrelevant. The only relevant interest is the nationalistic one.

My second thought is about the nature of nationalism. Actually, it's not even my own thought. I'm borrowing this from George Orwell, who wrote in his essay Notes on Nationalism: "All nationalists have the power of not seeing resemblances between similar sets of facts... Actions are held to be good or bad, not on their own merits, but according to who does them, and there is almost no kind of outrage—torture, the use of hostages, forced labor, mass deportations, imprisonment without trial, forgery, assassination, the bombing of civilians—which does not change its moral color when it is committed by 'our' side."

In Israel, this tendency is called "You must not compare."

In any event, Smotrich's enthusiastic support of racism as Zionism and Zionism as racism is—in his mind and in the mind of those like him, who are gradually increasing—looking reality in the eyes. In Israel, this means—as Orwell claimed—the ability to give ourselves a moral exemption from actions we would've condemned if others had done them (apartheid, for example) and then condemned the critics for zealot purity. Smotrich doesn't believe in purity ("purism"), he believes in filth ("patriotism").

He's not alone, of course. MK Amir Ohana from the Likud party also joined the let's-abuse-Rivlin-and-make-Sara-and-the-"people"-happy. Ohana accuses the president of hypocrisy (meaning, giving voice to his opinions).

As I said, Smotrich did not settle for criticizing the purism, he also had a punch-line. After he was done rebuking the president, Smotrich concluded: "No discrimination and no nothing." Let's say I half-agree. Definitely not nothing.