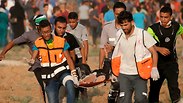 Palestinian teen evacuated
Photo: AFP
An IDF major was moderately wounded from a grenade thrown at him by Palestinian rioters on the Gaza border on Friday, while a Palestinian teen was killed by IDF fire east of Gaza City.
The officer, who was a commander in the force that came under attack, was hit with shrapnel in his upper body and was airlifted to the Soroka Medical Center in stable condition.
In response, the force opened fire towards the terrorists who threw the grenade in northern Gaza—in the area between Gaza City's Saja'iyya neighborhood and the old Karni crossing near Kibbutz Nahal Oz—and a hit was identified. The IDF is investigating the incident.
This is the gravest incident on the Israel side since the beginning of the border protests in late March. In recent weeks, several soldiers have been lightly and moderately wounded, but mostly from ricochets and explosives thrown at the fence.
On the Palestinian side, 15-year-old Othman Rami Halles was killed, while 70 others were wounded, at least 20 by live fire, and others by tear gas. The IDF said Halles tried to cross the border fence.
Thousands of Palestinians gathered near the Gaza border for the weekly "March of Return" protest. Some threw grenades, explosives, Molotov cocktails and stones at IDF forces from behind the thick black smoke of burning tires. Others flew incendiary kites across the fence.
The IDF opened fire at a suspect who tried to infiltrate Israel from the northern Gaza Strip.
Earlier, a group of Palestinians tried to sabotage the border fence, but returned to the strip without trying to cross.
Meanwhile, Israelis in communities near the Gaza border were asked to bring their children indoors and close their windows due to the use of tear gas by the IDF to disperse the violent rioting on the Gaza border.