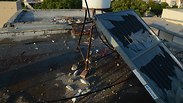 House in Sderot
Photo: Avi Roccah
Despite ceasefire announcement, 4 Gaza rockets fired overnight
After Hamas, Islamic Jihad say ceasefire reached with Israel following an escalation in the strip, Code Red rocket alert blares in border communities overnight, with rockets into the city of Sderot and the Regional Councils of Sha'ar HaNegev and Eshkol; Iron Dome intercepts one of the missiles.
Four rockets were fired from the Gaza Strip into Israel early Sunday despite an earlier announcement from Hamas and Islamic Jihad that a ceasefire had been reached between Israel and the factions in the strip.
The Code Red rocket alert siren was sounded overnight in the city of Sderot and the regional councils of Sha'ar HaNegev and Eshkol. The Iron Dome missile defense system intercepted one of the rockets.
On Sunday morning the Home Front Command announced the cancellation of the special instructions imposed on the Gaza border communities following the escalation in Gaza over the weekend.
Hamas spokesman Fawzi Barhoum told Reuters on Saturday: "Efforts by many parties have continued since the beginning of the escalation and the Israeli bombardment on Gaza. They were crowned by the success of the Egyptian effort to restore calm and end the escalation."
The Palestinian Islamic Jihad militant group said in a separate statement that a truce had been reached.
A senior Israeli defense official said in response to the reports of a ceasefire: "Only the facts on the ground would dictate our response."
Earlier, Hamas confirmed there were talks with Egypt and other international players in an effort to stop the escalation. "Israel started the attacks and it must stop," a Hamas official said. "The movement is responded to the Israeli aggression."
The Palestinian Islamic Jihad, meanwhile, said it would halt its fire if Israel stopped its airstrikes.
Education Minister Naftali Bennett heavily criticized the decision of the Israeli government to agree to a ceasefire.
"It's a grave mistake to allow Hamas, after two months of fires and hundreds of rockets fired at the Gaza border communities, to dictates to us the conditions of a ceasefire. I made it clear two months ago that restraint is going to result in escalation. We must order the IDF to act with force, sophistication and accuracy," vented the education minister.
Over 100 rockets and mortar shells have been launched at Israel since 3pm Saturday, with 20 of them intercepted by the Iron Dome missile defense system and 73 falling in open areas.
Over 150 Code Red rocket alerts have been sounded across the Gaza border communities, as well as in Sderot and Ashkelon, since 1:35am when the IAF strikes in Gaza began.
The IDF attacked dozens of terror targets in the Gaza Strip. According to IDF Spokesman Manelis, Saturday afternoon's strikes were "the biggest daylight strikes carried out since Operation Protective Edge."