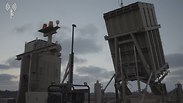 Iron Dome system in central Israel
Photo: IDF Spokesperson's Unit
Iron Dome batteries deployed in central Israel as Gaza tensions spike
IDF says extra anti-missile defense systems also deployed throughout southern Israel as region witnesses major flare-up with terror movements in the strip, with hundreds of rockets landing in southern Israel, and dozens of retaliatory airstrikes being carried out by the IAF: 'We're determined to continue to defend Israeli citizens and are ready for a variety of scenarios,' says IDF.
The IDF deployed extra Iron Dome anti-missile batteries across the southern and central Dan regions in Israel Sunday evening, amid escalating tensions that have beset the Gaza border throughout the weekend.

In addition, IDF reservists were also temporarily called to reinforce air defense deployments in the area.

A statement from the IDF said that the army is "determined to continue to defend Israeli citizens and is ready for a variety of scenarios that could continue and intensify according to the assessment of the situation and the operational need."

Ministers from the Security-Cabinet who convened on Sunday decided that the the IDF would respond to incendiary kites flying into Israel from Gaza and will show no policy of restraint.

Iron Dome in central Israel (צילום: דובר צה"ל)

In an unusual move, the IDF published a video recording the deployment of the defense systems in central Israel in what may be intended to send a warning to Hamas rather than as a preparation to an expected rocket attack in the area.

On Sunday evening, Israeli jets attacked a cell of incendiary balloon launchers in the Beit Hanoun area in northern Gaza which Palestinian reports claimed left two wounded.

The airstrikes resumed on Sunday when an IAF aircraft attacked three Hamas terror cell launching incendiary balloon from the northern and central Gaza Strip into Israeli territory.

The attack is the fourth to have taken place on Sunday on incendiary balloon cells. In the afternoon a cell of terrorists was directly attacked while flying the balloons, with Israel departing from its policy in which it has hitherto fired warning shots. The attacks were carried out after intelligence emerged these cells included Hamas members.

Later on the IDF release a statement saying: "The IDF views gravely the launching of incendiary kites and balloons and will continue to act intensively against these terrorists."

Sources in the Gaza Strip told Ynet the ceasefire agreement with Hamas and Islamic Jihad only includes a gradual reduction of the incendiary balloons being flown from the strip into Israel, where they cause fires that wreak havoc on thousands of acres of farmland and woodland.

Prime Minister Benjamin Netanyahu stressed Sunday that Israel did not agree for a ceasefire that does not also include a complete and immediate halt to incendiary balloons and kites.

Several fires caused by incendiary balloons have broken out so far Sunday in the Kibbutz Erez area.

Defense Minister Avigdor Lieberman also noted that the IDF "will not accept neither kites nor rockets."

"We've had a stormy weekend," the defense minister said. "As for the rest of the week, it's important to stress—we have no intention of accepting rockets, kites, drones or anything else."

"Hamas has suffered a serious blow. Offensive tunnels were destroyed, arms manufacturing and storage sites were destroyed," he said.

Lieberman also boasted the fact that "90 percent of the rockets fell in open areas or the Iron Dome managed to intercept them," adding "But even those rockets that did hit Israeli territory, even those Code Red sirens and the people who ran for shelter—even that is an unreasonable reality and we are not willing to accept it."

"I hope Hamas draw conclusions, and if they don't, they will have to pay a heavy price," the defense minister said.

Education Minister Naftali Bennett, however, criticized the decision to stop IAF strikes in the strip and agree to a ceasefire with Hamas and Islamic Jihad. "A ceasefire without stopping terrorism is surrender," he determined.

"For three months, we've been witnessing the fire terrorism, with some 1,000 explosive and incendiary balloons used against the Gaza border residents. Just in the past few days, the south's residents suffered some 200 rockets," Bennett lamented.

"In a timing that is convenient it, Hamas is dictating that we're now having a ceasefire. So let's make this clear: a ceasefire without stopping the fire terrorism is not deterrence, it's surrender," he stressed.

Bennett said he and Justice Minister Ayelet Shaked would object in the Cabinet to "any ceasefire that allows Hamas to rearm itself and allows Hamas to continue launching fire balloons towards the south's residents."