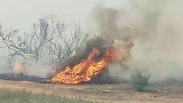 Fire caused by incendiary kite
Rocket lands in south Israel after IDF attacks 2 Gaza posts
Code Red altert wails across Hof Ashkelon Regional Council shortly after IDF confirms attacking observation posts in Beit Hanoun and Jabalia near areas from which Palestinians had flown incendiary balloons earlier in the day; IDF says rocket landed in open space inside Israel, while local residents report hearing a boom.
A rocket launched from Gaza landed in open space in south Israel on Monday evening, despite a Sunday announcement from Hamas and Islamic Jihad that a ceasefire had been reached with Israel after the region witnessed a major flare-up over the weekend.

Local residents reported hearing an explosion after a Code Red alert blared in the Hof Ashkelon Regional Council at 5:36pm.

Fire caused by incendiary kite (צילום: רשות הטבע והגנים ברק שחם)

The rocket launch came shortly after the IDF confirmed Palestinian reports that it had attacked two observation posts in Beit Hanoun and Jabalia on Monday afternoon located near areas from which Palestinians had flown incendiary balloons earlier in the day.

According to the IDF, the attack was carried out in response to the kite and balloon terror led by Hamas against Israeli civilians and against Israeli sovereignty.

Firefighters were once again called to Israeli Gaza-border communities on Monday afternoon as flames incinerated more landscape at the Karmiya Reserve between Kibbutz Karmiya and Kibbutz Yad Mordechai.

The firefighters in the area were assisted by three planes. A thick blanket of smoke caused by the fires covered the areas around the kibbutzim and near Zikim and Moshav Netiv HaAsara, while residents complaining that it was difficult to breath were advised to stay in their homes and close the windows until further notice.

In addition, the Eshkol Regional Council reported that since the morning, seven fires had broken out, six of which were brought under control by firefighters.

"This morning the heads of the Regional Council met with the prime minister. We received an important and unequivocal message that as long as the balloons and the burning of our territory continues, there will be no ceasefire," he said.

"During the day, the balloons continued and a few fires erupted in the Regional Council. We expect the fulfillment of this promise to end the balloon terror and the fires and we support the IDF's activities to destroy the threat and to ensure security and quiet in our communities," he continued.