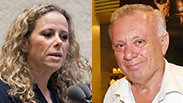 MKs Nahmias-Verbin and Broshi
Photos: Yoav Dudkevitch, Aviv Hofi
Zionist Union MK Eitan Broshi has touched MK Ayelet Nahmias-Verbin's behind during a field trip the party was recently on, Ynet learned on Wednesday.

According to eye witnesses, MK Broshi initially did not realize the problematic nature of his actions and went about his day as if nothing had happened.

It was only after other MKs intervened that Broshi and Nahmias-Verbin spoke about the incident. Broshi apologized to Nahmias-Verbin and the two agreed to put the incident behind them.

The incident was also reported to party leader Avi Gabbay, who rebuked Broshi.

"Immediately after the trip, I apologized for the incident," Broshi said. "A gesture that was supposed to be friendly went the complete opposite way, and as soon as I realized my mistake, I deeply apologized."