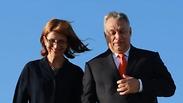 Prime Minister Victor Orbán lands in Israel
Hungary's FM says his country is among 'most committed allies of Israel'
Speaking in interview with Ynet ahead of Prime Minister Victor Orbán's arrival in Israel, Péter Szijjártó praises his country for working to ensure a 'balanced' and 'fair' attitude' toward Israel in the international community, says Israeli critics accusing Orbán of being anti-democratic is 'not fair' and 'baseless.'
Hungary's Foreign Minister Péter Szijjártó described his country on Wednesday evening as "one of the most committed allies of Israel in Europe" ahead of a state visit by the country's Prime Minister Victor Orbán, who landed in Israel the same night.

"Hungary is one of the most committed allies of Israel in Europe and is constantly fighting for it. That's why the criticism against Orbán by Israeli officials that he is anti-democratic is not fair, not friendly and baseless," Szijjártó said.

In an interview with Ynet and Yedioth Ahronoth, the Hungarian foreign minister, who is accompanying Orbán on his trip, insisted that Budapest has "struggled for a balanced and fair attitude toward Israel in the international community. We have always been the country that Israel could count on in UN and EU votes."

Orbán, who is regarded as one of the more controversial leaders of the European Union because of his support of anti-democratic legislation, made a statement last year saying that Miklós Horthy, who controlled Hungary during World War II and joined the axis powers and collaborated with the Nazis, was an exceptional leader.

"Hungary clarified that historically, its government during the war failed to defend its Jewish community. We will never forget this chapter of history. We have spoken about it honestly and frankly," Szijjártó said when asked to explain Orbán's comment.

The foreign minister also insisted that his country fights to eradicate anti-Semitism from Hungary, noting that "We declared a zero-tolerance policy for any form of anti-Semitism. For example, Holocaust denial can be punishable by imprisonment."

He also pointed out what he said was a notable lack of anti-Semitic attacks carried out in the capital. "It isn't in Budapest that young people wearing a Kippah are attacked in the street. In Hungary we provide security and defense for all people living in the state regardless of which religion or community they belong to," he pointed out.

"There is a renaissance in Jewish life in Budapest. Anyone who comes here will see that the largest synagogue in Europe and one of the biggest Catholic cathedrals in the world are located a walk's distance from each other," Szijjártó continued.

He also sought to set the record straight on the fierce dispute between the Hungarian government and the Jewish Hungarian-American billionaire George Soros—who has used his wealth to fund Syrian refugees in Europe—which some critics have argued verged on anti-Semitism.

"There is a serious and open dispute about Syria, but the dispute between Hungary and the billionaire is not because of his ethnicity, but because of his positions regarding Europe's future," Szijjártó explained.

Regarding Israel's relations with Europe, Szijjártó acknowledged that an "unfriendly and unbalanced" treatment prevailed toward the Jewish state.

"I have seen an attitude that is unfriendly and unbalanced many times in the EU toward Israel. We don't like it and we come out against it," he said.

Orbán arrived in Israel accompanied by several of his ministers. He is scheduled to meet with President Reuven Rivlin and Chief Rabbi David Lau, and will dine with Prime Minister Benjamin Netanyahu at his official residence in Jerusalem.

Orbán will also tour the Yad Vashem Holocaust Memorial Museum in Jerusalem and plant a tree at the Nations Forest in the capital. On Friday, Orbán will visit the Western Wall before returning to his country.

The Hungarian prime minister will skip a visit to the Palestinian Authority, but he is sending his deputy to visit the Church of the Nativity in Bethlehem.