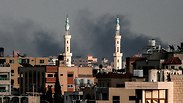 Ceasefire achieved in Gaza
Photo: AFP
Hamas says ceasefire reached with Israel after bloody Friday
Egypt and the UN apply pressure on Hamas to restore calm after the death of an IDF soldier by sniper fire triggers extensive IDF strikes in Gaza; after a quiet night, IDF tank fires at Hamas post as several Palestinians cross border fence; infiltrators return to Gaza, no casualties reported.
Hamas announced early Saturday it had agreed to a ceasefire with Israel, after another round of hostilities Friday, during which Palestinian snipers killed an IDF soldiers and Israel responded with extensive strikes across the Gaza Strip.
"With Egyptian and United Nations efforts it has been agreed to return to the era of calm between (Israel) and Palestinian factions," said Fawzi Barhoum, a Hamas spokesman.
Following a special situation assessment held Saturday morning and a calm night on the border fence, the IDF's Home Front Command said Israeli communities on the Gaza border can return to civilian routine. The Zikim beach, which was closed Friday amid the volatile situation, was reopened Saturday morning.
On Saturday morning, an IDF tank fired at a Hamas post in northern Gaza after several Palestinians crossed the border fence into Israel. The infiltrators immediately returned to Gaza's territory, and no casualties were reported.
Apart from that incident, the truce has been holding, with no further retaliation from Gaza. Hamas came under pressure not to retaliate to the extensive Israeli strikes, and the terror group exercised restraint throughout the night, only responding with moderate short-range rocket fire.
An IDF soldier was killed near Kissufim by sniper fire from the Gaza Strip on Friday afternoon, leading to a retaliatory strike by the IDF that killed at least four Hamas members.
The IDF soldier, who was wearing a ceramic vest, was killed by a bullet hitting his chest. A helicopter was called to evacuate the severely wounded soldier, but he was pronounced dead in the field, the IDF said.
This incident marks the first time an IDF soldier is killed on the Gaza frontier in active duty since the 2014 Operation Protective Edge and since the "March of Return" campaign had been launched.
During the flare-up, which lasted several hours, IDF tanks had hit 68 Hamas targets and had "eliminated about 60 buildings and infrastructures and revoked significant military and command and control capabilities."
The Hamas Zaytun battalion headquarters in northern Gaza, as well as Hamas headquarters in Bureij in central Gaza and in Khan Yunis in the southern part of the strip, were completely destroyed.
The IDF's Home Front Command instructed Israelis living in communities near the Gaza border to remain within a 15 second distance from a bomb shelter or a safe room as well as to avoid mass gatherings. The army also closed the Zikim beach for the weekend as a precaution.
At around 8:30pm, a Code Red rocket alert siren was sounded in Shaar HaNegev Regional Council and Sdot Negev Regional Council. Three rockets were fired from the Gaza Strip, with two of them intercepted by the Iron Dome missile defense system and the third falling in open area.
The IDF's spokesperson's Unit called Friday's offensive "The Headquarters Night" and stressed that it had severely damaged Hamas's arms depots, training facilities, observation posts, battalion situation rooms, battalion commander's offices and other infrastructures.
"Among the terror targets we hit were weapons manufacturing factories, an entry shaft to a series of terror tunnels, a factory for manufacturing underground infrastructure components, drones depot, Hamas battalion situation rooms, and observation posts," the IDF elaborated.
"The attack demonstrated the IDF's aerial, intelligence and operational abilities. The measures (taken by the IDF) will expand as needed," the army added.
"Hamas continues promoting terror against Israel's citizens and security infrastructures, violates Israel's sovereignty and endangers its citizens and security forces," the IDF stated.
In the wake of the conflagration the political and security brass, headed by Prime Minister Benjamin Netanyahu, Defense Minister Avigdor Lieberman and IDF Chief of Staff Lt. Gen. Gadi Eisenkot, convened in the Kirya Headquarters in Tel Aviv for a situation assessment on Friday evening.
US envoy to the Middle East Jason Greenblatt slammed Hamas Saturday tweeting, "As Israelis work tirelessly on their northern border to treat Syrian refugees, Hamas works relentlessly to destroy Israeli lives (and Gazans suffer as a result of Hamas). Today a young Israeli soldier was murdered by Hamas. Our thoughts and prayers are with that young man's family."