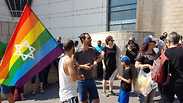 LGBT protest in Haifa
Photo: Gil Nechushtan
LGBT community stages nationwide protest against Surrogacy Law
Two arrested in Jerusalem as demonstrators assemble outside PM's Residence in Jerusalem waving gay pride flags to express anger over law passed last week that excludes LGBT community from using services of a surrogate mother to become parents; 'Our struggle is not only for surrogacy but also for equality in general.'
A nationwide demonstration staged by the LGBT community began on Sunday morning over their exclusion from the Surrogacy Law that was passed last week which allows single mothers and heterosexual couples who cannot have children to use the services of a surrogate mother to become parents.

Backing the protests, some of Israel's leading companies, organizations and institutions announced that they would enable LGBT members of their staff to take the day off work to participate in the protests.

The demonstrations got underway at 10am across major cities in the country, including Jerusalem, Haifa, Be'er Sheva and Tel Aviv, with some 150 marchers assembling in Paris Square in the capital just meters away from the the Prime Minister's Residence waving gay pride and Israeli flags while chanting slogans against Prime Minister Benjamin Netanyahu.

Protest throughout the country

Thousands of protesters blocked the northbound route on Ayalon Highway at the HaShalom Intersection and the Azrieli Junction. "No equality, we'll block the Ayalon," the protesters shouted in a rhyming Hebrew slogan.

During the protest outside the residence, police arrested two protesters.

In Haifa, the protest got underway with some 100 demonstrators gathering outside the city's municipality, with the number gradually swelling to 200. Tel Aviv also saw 300 marchers gather outside the municipality.

Arrest in Jerusalem

Assaf and Amir attended the rally in Tel Aviv with their son and daughter who were born in surrogacy in India five years ago.


"Our struggle is not only for surrogacy but also for equality in general," Amir explained. "It has been an extremely difficult week for the states with three discriminatory laws that have been passed," he said in reference to the Nationality Law and another law that was passed, know as the "Breaking the Silence Law" which will see groups that systematically criticize IDF soldiers and the actions of the army banned from entering Israeli schools and speaking with pupils.

"It's sad for us that we can't live in this country as equal citizens," he added.

Former prime minister and former IDF chief of staff Ehud Barak also participated in the protests at Tel Aviv's trendy bar-filled Rothschild Boulevard.

"I decided to strike today and I am not working. I stopped working and came here in order to show solidarity with the LGBT community. I think this is an extremely important struggle and it is good that people come to it," he said.

"The struggle is first and foremost about the LGBT community, about practical matters, about rights for men to surrogacy," said the former leader, one of Netanyahu's staunchest critics.

"But this is a government in a predicament that, in the same week, enacted a special law that would throw the Arabs out of the Supreme Court to the District Court, and at the same time prohibited Israelis, some of whom are officers who served in the IDF, from entering schools to talk with the children," Barak said.

"This stream of narrow-mindedness, of nationalism, of hating foreigners, streams and other different people is a trend we need to stop," he added.
PM has shown his lack of commitment to equality
Ilan Sheinfeld from Mitzpa in the lower Galilee organized the protest in Carmiel. "I am already a gay father of two wonderful boy, and it would appear that this criminal law should not have such a difficult effect on me," he said.
But I am a member of the LGBT community and I want more children. When they legislate laws that clearly discriminate against my friends and against me, in blatant contradiction to the Basic Law on Human Dignity and Liberty, and to morality and common sense, I can't accept it or come to terms with it," Sheinfeld continued.
The law, he added, "deeply and seriously undermines our status as parents and is going to harm our children as well. It's not enough that they impose difficulties in us to register as Israelis and that they refuse to recognize our Jewishness, now they are asking us to take a massive financial risk on ourselves and a health risk to our children with a pregnancy and birth in a foreign country. It directly damages our future and the future of our children in this country."
The prime minister, Sheinfeld said, had "again demonstrated his lack of credibility and his lack of commitment to the values of equality, to the Basic Laws of Israel and to Supreme Court rulings."
He argued that Netanyahu had backed the law due to political pressures exerted by the Haredi parties which prop up his coalition, the same people, he noted "he do not bear any civil burden."
Israeli Diplomat Elad Strohmyer, who is openly gay and married to a man, is set to take up his new post as an Israeli Embassy spokesman in Washington on the day of the marches.
"If I can serve my country abroad, why can I not get married here, but only abroad?" he asked. "If I can be robbed at gunpoint during my diplomatic service in Africa and risk my life, can I not bring children to the State of Israel? If as an Israeli diplomat I am a target for terrorists across the world, am I not entitled to the same inheritance rights, adoption and more, like any citizen? It pains me. It pains me a lot." he admitted.
"It hurts me because I love my country. I love it and do not stop doing so for a moment. I just want my country to love me and represent me too, without conditions."
Some of the companies who expressed their solidarity with the LGBT community's protest include pharmaceutical company Teva; communication companies Bezeq, Cellcom and Motorola; TV providers Yes and HOT; Facebook Israel; credit card companies such as Leumi Card and Isracard; pharmacy company Super-Pharm; Clal Insurance; airlines El Al and Israir; construction engineering company Electra; supermarket chain Sufersal and many others. In addition, the The Nature and Parks Authority will allow LGBT members of its staff to attend the march.
Ichilov Hospital at the Tel Aviv Sourasky Medical Center also joined the list of LGBT community supporters, allowing all employees who wish to participate in the upcoming protests to be absent from work.
Protesters block main highway in Tel Aviv (צילום: עומר שליו)
"In light of the requests from gay member of our staff and in solidarity with the community's struggle for equal rights, the hospital will allow its employees, who wish to participate in Sunday's demonstrations, to be absent from work," said the official statement.
"The management of the medical center will ensure that the patient are not affected on that day," concluded the statement.
Dr. Roy Zucker, a doctor at the hospital's Infectious Diseases Unit, thanked the management for their support.
"I thank the management for cooperating and on Sunday I will not go to work. Doctors provide services to the citizens on a daily basis … and all we ask for is to have basic rights—the ability to raise children, get married and other issues that haven't been on the agenda until now."
El Al also joined the list of companies who decided to express their support for the community.
El Al airlines also published a statement explaining their reasons for supporting the rallies.
"The company supports and embraces the LGBT community in their fight for equality … We will do our utmost to allow our people to participate in Sunday's demonstrations, while taking into consideration the busy flight schedule at the height of the summer season," the official statement said.