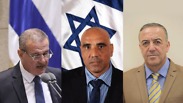 Hamad Amar, Akram Hasson, Saleh Saad
Yossi Zamir, Knesset Spokesperson
Three MKs, including two from from the coalition, filed a petition with the High Court of Justice on Sunday against the Nationality Law, which critics have described as discriminatory but which is described by its main proponents as a reaffirmation of Israel's status as the homeland of the Jewish people.
The move was initiated by MKs Hamad Amar (Yisrael Beytenu), Akram Hasson (Kulanu) and Saleh Saad (Zionist Union).
The petition was submitted as part of a cross-party move and was drafted by the Druze lawyers on behalf of the Druze MKs, the Forum of the Druze Authority Heads and the Druze community.
"For the Druze community, which sacrifices its blood and its sons for the sake of the State of Israel, the Nationality Bill is an equivalent of spitting in our faces," said Sa'ad.
"We have joined forces in a cross-party move because this is a radical piece of legislation promoted by the government against Arab speakers and a continuation of the discrimination against Druze and minority communities, which is now anchored in law," he vented.
The law, which was passed last Thursday, states that only Jews have the right of self-determination in the country, something which Prime Minister Benjamin Netanyahu hailed as the realization of Zionism's vision but which has stoked anger among critics who argue it is racist.
Knesset members Benny Begin (Likud) and Orly Levy-Abekasis abstained in the 120-member Knesset after months of political tussling, while Arab lawmakers, who say the law is racist and verges on a codification of apratheid, shouted and ripped up papers after the vote, prompting Knesset Speaker Yuli Edelstein to remove the Arab MKs from the plenum.
One of the main controversial sticking points of the law was article 7 which defined the development of the Jewish settlement as a national value, and enabled to exclude populations from new communities. However, after a warning from the Knesset legal advisor, the article was altered.
The bill also strips Arabic of its designation as an official language alongside Hebrew, downgrading it to a "special status" that enables its continued use within Israeli institutions.
Israel's Arabs number some 1.8 million, about 20 percent of the 9 million population.
Early drafts of the legislation went further in what critics at home and abroad saw as discrimination towards Israel's Arabs.
Clauses that were dropped in last-minute political wrangling—and after objections by Israel's president and attorney general—would have enshrined in law the establishment of Jewish-only communities, and instructed courts to rule according to Jewish ritual law when there were no relevant legal precedents.
Instead, a more vaguely-worded version was approved, which says: "The state views the development of Jewish settlement as a national value and will act to encourage and promote its establishment."