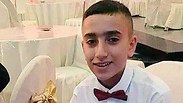 Teen killed in Dheisheh refugee camp
The Palestinian Health Ministry said Monday that a 15-year-old Palestinian was shot dead and another wounded from live fire to his leg during violent clashes with the IDF near Bethlehem. The ministry says another person was wounded by live fire in his leg.

The boy was identified as Arkan Mezher, who was said to have been shot in the chest.

The IDF says troops were carrying out an arrest raid in the Dheisheh refugee camp near Bethlehem overnight Sunday when a "violent riot" began. It says Palestinians hurled firebombs and grenades at soldiers, prompting it to respond by firing live rounds selectively.

The military said that it was looking into the reports of the teenager's death.

While tensions have flared over recent months between Israel and Hamas in Gaza, the West Bank has been relatively calm.

The IDF said that in an extensive series of raids to arrest wanted suspects, violent riots took place including hurling Molotov cocktails, stones and improvised explosive devices at the IDF forces.

The IDF force responded with crowd-dispersal methods and live rounds at the riot's main instigators.

There were no casualties among the IDF soldiers.

IDF, Shin Bet and Border Police forces detained overnight Sunday eight wanted suspects believed to be involved in terror activities and violent rioting against Israeli citizens and security forces.

The detainees were taken into questioning.

As part of the raid operation conducted by the Etzion Regional Brigade, two Palestinians suspected of involvement in terror and criminal activities were arrested in the refugee camp.

In addition, a weapons manufacturing lathe was discovered during the raids.

Associated Press contributed to this article.