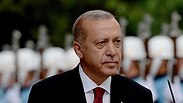 Turkish President Erdogan
Photo: EPA
ISTANBUL - Turkey's President Tayyip Erdogan said on Tuesday that Israel's Nationality Law, which declares that only Jews have the right of self determination, legitimizes oppression and shows that Israel is a fascist and racist country.
Speaking to members of his ruling AK Party in parliament, Erdogan said the law showed Israel was "the most Zionist, fascist and racist country in the world," and called on the international community to mobilize against Israel.
"The Jewish nation-state law passed in the Israeli parliament shows this country's real intentions. It legitimizes all unlawful actions and oppression," Erdogan said.
"There is no difference between Hitler's Aryan race obsession and Israel's mentality. Hitler's spirit has re-emerged among administrators in Israel," he said.
Erdogan said Israel had shown itself to be a "terror state" by attacking Palestinians with tanks and artillery, adding that the move would "drown the region and world in blood and suffering".
Erdogan also warned the move would lead the region and the world to "blood, fire and pain" and promised to stand with Palestinians.
A spokesman for Erdogan already condemned the legislation on Thursday, denouncing it as racist and accusing Israel of trying to form "an apartheid state."
He called on the international community "to react to this injustice happening in front of the entire world's eyes."
Turkey and Israel have long been at loggerheads over Israel's policy towards the Palestinians and Jerusalem's status. Erdogan has called for a summit of Muslim leaders twice in the past six months after US President Donald Trump decided to recognize Jerusalem as Israel's capital.
Condemning the law, presidential spokesman Ibrahim Kalin criticized what he called "this racist move that amounts to erasing the Palestinian people from their homeland physically and legally."
In a series of tweets, Kalin also repeated Ankara's long-standing objections to the construction of Jewish settlements on what he said was "occupied" territory. "We reject the Israeli government's efforts to form an apartheid state," he said.
Turkey's foreign ministry also criticiszd the law. "Identifying the right to self-determination as a right given only to Jews is the result of an outdated and discriminatory mentality," it said in a statement.
This law "tramples on the principles of universal law and disregards the rights of the Palestinian citizens of Israel," the Turkish foreign ministry added.
The largely symbolic law, which passed in the Knesset on Wednesday, stipulates that "Israel is the historic homeland of the Jewish people, and they have an exclusive right to national self-determination in it."
It also strips Arabic of its designation as an official language alongside Hebrew, downgrading it to a "special status" that enables its continued use within Israeli institutions.