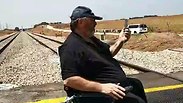 Protesters block the train tracks
Photo: Tzeira Nachmias
Disabled protesters block Tel Aviv-Haifa train line for over an hour
Some 20 members of 'Disabled Panthers' group stage protest on train tracks near Rishpon, demanding their disability stipends to be made equal to minimum wage; 'This is the opening shot,' says one protester, promising more demonstrations to come.
Some 20 protesters from the "Disabled Panthers" group blocked train tracks in the Rishpon area, halting train movement between Tel Aviv and Haifa for an hour and a half on Tuesday.

Disabled persons receive a basic stipend of NIS 3,270 a month and by January 2021 their stipend will increase to NIS 3,700 under a law approved by the Knesset half a year ago.

The protesters demand the stipend to be equal to minimum wage, which currently stands at NIS 5,300.

"I worked my entire life with all of the illnesses I have and with three types of cancer and paid the National Insurance Institute. Today, I get NIS 2,833, and with that I'm supposed to live," said Tzeira Nachmias, one of the protesters. "No more. We won't accept crumbs. We'll take down this vicious government."

"This is the opening shot," another protester said. "This morning we launched the summer protests and we're inviting everyone to join us. There are 2 million citizens living under the poverty line, and this will end. We will force this government to its knees until it understands."

But not all disabled groups support the renewed protest. Alex Friedman, the head of the "Disabled, Not Half a Person" group, said that "the protesters have gone off the rails. The demand for disability stipends as high as minimum wage is just, and we understand the increasing despair among some groups of protesters, but alongside that a protest, just as it may be, must not endanger lives."

Roi Rubinstein and Raanan Ben Zur contributed to this story.