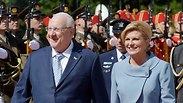 Israel's president Rivlin visits Croatia
Photo: Amos Ben Gershom/GPO
Croatia's President Kolinda Grabar-Kitarović welcomed Israel's President Reuven Rivlin on Tuesday with a state ceremony at the capital of Zagreb, with the latter reminding her of the "dark moments" in the country during its WWII collaboration with Nazi Germany.

The two held a small meeting at the presidential palace followed by an extended meeting with Agriculture Minister Uri Ariel, Economy Minister Eli Cohen, and their Croatian counterparts.

President Rivlin visits Croatia

Rivlin told Grabar-Kitarović he cherished the close and deep friendship between Israel and Croatia, the growing trade between the two countries and the increasing cooperation.

He also addressed the fate of Croatian Jews in World War II, when the Croatian government collaborated with the Nazis.

"We look together to the future, but also to the past from which we learn and which we teach. Our shared past is not always simple, and it includes quite a few dark moments, but also quite a few heroes. There are 115 Croatian Righteous Among the Nations, each a candle in the dark," he said.

President Grabar-Kitarović added that "in our conversation, we spoke about our shared history, and about our duty to prevent these tragedies from happening again. The foundations of Croatia's democracy are based on anti-fascism, which is what led to modern Croatia."

Croatia, she continued, "views its cooperation with Israeli Holocaust memorial institutions as having great importance in preserving the memory of the victims.

"Croatia has proven time and again its commitment to the global fight against anti-Semitism and all other forms of xenophobia."

The Croatian president mentioned her 2015 visit to Israel and said that it left deep impressions on her. Rivlin's arrival in Croatia, she said, is a testament to the excellent relations between the countries.

Grabar-Kitarović, then praised Rivlin for visiting her country, which she said would improve bilateral relations.

"Your visit here is very important not only because of the excellent bilateral relations between Croatia and Israel, but also because of our communities, especially the Jewish community in Croatia," she said.

Croatia and Israel, she continued, "should examine all opportunities to increase cooperation. We share many common issues, such as immigration, security and, of course, joint opportunities in different economic sectors: energy, industrial, agricultural and others," Grabar-Kitarović added.

The Croatian president also discussed her county's expected purchase of Israeli F-16 jets. "The relationship between the countries is that of allies, and the emphasis of our talks today should be put on military and economic cooperation," Grabar-Kitarović said.

"The purchase deal of F-16s strengthened our relations, not only in terms of military equipment, but in a broader sense. This is the first step towards a long-term strategic partnership between Croatia and Israel," she concluded.