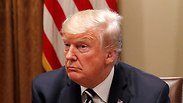 President Trump
Photo: Reuters
US President Donald Trump on Tuesday kept open the possibility of negotiating an agreement to denuclearize Iran, two days after he rattled his saber at the nation on Twitter.

"We'll see what happens, but we're ready to make a real deal, not the deal that was done by the previous administration, which was a disaster," he said during a speech to the Veterans of Foreign Wars.

Iran on Monday dismissed Trump's angry warning that Tehran risked dire consequences "the like of which few throughout history have suffered before" if it made threats against the United States.

Trump issued earlier this week a warning on Twitter to Iranian President Hassan Rouhani that he will face dire consequences for threatening the United States, a day after the Iranian leader cautioned Trump about pursuing hostile policies against Tehran, saying an American war with Iran would be "the mother of all wars."

"You are not in a position to incite the Iranian nation against Iran's security and interests," Rouhani said, in an apparent reference to reported efforts by Washington to destabilize Iran's Islamic government.

Trump responded early Monday with a tweet that warned: "NEVER EVER THREATEN THE UNITED STATES AGAIN OR YOU WILL SUFFER CONSEQUENCES THE LIKE OF WHICH FEW THROUGHOUT HISTORY HAVE EVER SUFFERED BEFORE."

Trump tweeted early Monday about the dangers to Iran of making hostile threats.

"American must understand well that peace with Iran is the mother of all peace and war with Iran is the mother of all wars," Rouhani said, leaving open the possibility of peace between the two countries which have been at odds since the 1979 Islamic Revolution.

Trump's defense secretary, Jim Mattis, declined to directly answer a question about whether he was concerned that Trump's rhetoric might ratchet up tensions in the region, increasing the chances of miscalculation.

But Mattis, speaking at a news conference in California, listed his many concerns about Iranian actions in the Middle East, including Tehran's support for President Bashar Assad in Syria's civil war and for Houthi militants fighting the internationally recognized government in Yemen.

"It's time for Iran to shape up and show responsibility as a responsible nation. It cannot continue to show irresponsibility as a revolutionary organization that is intent on exporting terrorism, exporting disruption, across the region," said Mattis, a retired Marine general.

"So I think the president was making very clear that they're on the wrong track."