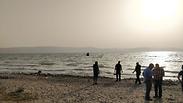 Scouring the Kinneret following rocket launches
Photo: Emek HaYarden Regional Council
ISIS rockets land in Kinneret, IDF shells launcher
After three-hour search prompted by reports from eyewitness who claimed to see two suspicious objects crash into the water accompanied by explosions, security authorities find rockets which were likely launched as part of internal fighting between terror group and Assad's army.
Israeli jets struck a rocket launcher and shelled the area on Wednesday evening from which two rockets were launched by ISIS and landed in the Kinneret earlier as part of the internal fighting raging in Syria.

Two BM-21 rockets were found by Israeli security authorities in the northern freshwater lake after a three-hour search prompted by reports by eyewitness who claimed to see two suspicious objects crash into the water accompanied by explosions.

According to the defense establishment, the rockets were not intercepted due to the non-hermetic air defense system.

The IDF responded by attacking the rocket launcher and shelling the area from where the projectile was lauched with artillery fire.

The IDF issued a statement after the military response saying, "The IDF will act against any attempt to violate the State of Israel's sovereignty and harm the security of its citizens."

When the rocket alert siren was sounded in the southern Golan Heights on Wednesday afternoon, the IDF originally concluded that the siren had been triggered by internal fighting in the Syrian civil war, and later confirmed that errant rocket fire had in fact landed in Israeli territory.

The incident came a day after the IDF shot down a Syrian fighter jet that entered Israeli airspace from the northern border.

Locals told the Director of the Gofra Beach in Kinneret that they saw a suspicious object fall into the water, prompting the police to scour the area.

"There were two explosions and we saw a wave of people leave the water," recalled one Acre resident who was at the beach. "We heard a strong boom that caused a strong wave in the water."

"As I was watching the water, I saw something fall in. I didn't see what it was but I saw the spray from the impact," Hasdia Rada, a life guard at one of the lake's beaches said. Another man said he heard a whistling sound before an impact.

There have been many instances of stray fire landing on the Israeli side of the rocky Golan plateau during years of fighting between Syrian rebels and forces loyal to President Assad, but a rocket flying between 7-10 kilometres (4-6 miles) into the lake is thought to be the farthest yet.

Reuters contributed to this report.