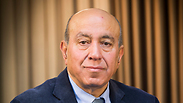 Zouheir Bahloul
Photo: Gil Nechushtan
MK Zouheir Bahloul (Zionist Union/Labor) said Saturday evening that he is resigning from the Knesset effective immediately and will not be running for a spot on his party's list in the next election as an act of protest against the Nationality Law.

Bahloul announced his resignation on TV show Meet the Press, saying the current Knesset is the most dangerous parliament Israel has had, and that he intends to continue making a difference from outside the legislature.

"This is a painful moment. If I'm giving up, it means all hope is lost. The Knesset has become the private estate of (Prime Minister) Netanyahu and his cohorts," Bahloul accused.

"The entire series of legislation that excludes others, which is so dangerous to the democratic features of the state, has brought anxiety to the State of Israel," the Arab lawmaker continued.

"I was burned, I cannot remain silent anymore, and it's better for me to escape before this ship sinks. It may still remain above water, but I won't be on it," Bahloul insisted.

But he stressed he wasn't completely abandoning political life. "I will be one of the founders of the popular movement that is supposed to rise in this country. This will be a popular movement of Arabs and Jews who will prove that eventually, in spite of Netanyahu and his friends' opposition, we can live here together and direct this ship to other places," he explained.

The Labor Party said it was "sorry to hear about MK Zouheir Bahloul's choice."

"The Nationality Law is a kick in the head to over one fifth of the population of Israel—which is a Jewish country with or without it. When we return to the government, we will amend this law as well and add what should've been obvious—the word 'equality,'" the party said in a statement.

Labor Party leader Avi Gabbay promised that his party will "make sure in the next election as well that there is appropriate representation to the Arab population."

Incoming opposition leader MK Tzipi Livni also lamented Bahloul's decision, "particularly in days in which the tyranny of the majority and extremist nationalism are hurting minorities in society. This is the time for all of those who believe in the State of Israel being both Jewish and democratic—with equality for all—to join forces."

State Control Committee chairwoman MK Shelly Yachimovich added that "even though the person coming into the Knesset to replace Bahloul is Moshe Mizrahi—a worthy man and a personal friend—the resignation of Zouheir—a quality man, moderate and in touch with the entire Israeli society—is regretful and foreboding. The fact an Arab-Israeli, who is familiar with the general Israeli society, cannot remain in the Knesset, is one of the many rotten fruit of the racist Nationality Law, which is destructive to Israeli society."